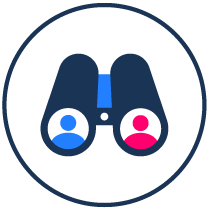 It's Time To Master Strategic Sourcing
A post-and-pray sourcing approach is no longer good enough. In a world where the majority of candidates are passive, you need a combination of proactive, outbound sourcing strategies ("push marketing") and a strong employer brand ("pull marketing") to cut through the noise, reach top talent and ensure candidate engagement.
While your strategy will depend on your internal resource model, if recruiting teams want to truly excel at seeking out and engaging candidates ahead of demand and tapping into otherwise inaccessible talent pools, they need to define target groups and get creative, borrowing push and pull techniques that have traditionally been used in marketing campaigns.
As well as our strategic sourcing best practices below – including tips for engaging passive candidates – our e-book is full of inspiration for how you can identify talent ahead of business demand.
Automate High-Volume Recruiting
Whether sourcing to fill a high number of open positions within tight timeframes or sorting through a large number of applicants, striking the balance between quality and quantity is a continuous struggle. So, how can you leverage hiring automation to achieve high-volume recruiting success? 
Effectively Source Passive Candidates
With 80 percent of global professionals defining themselves as passive candidates, having a strong employer brand is critical so that you can stand out as an employer of choice – but alone, it's not enough. 
Sourcers need to get creative when it comes to identifying and engaging ideal candidates, but how does this translate into concrete steps? From optimizing your career site to leveraging employee ambassadors, check out our best practices below.  
Enable a Diversity Sourcing Strategy
More now than ever before, organizations are seen as having a responsibility to help correct the inequalities that still pervade in our society. A diverse workforce means a greater variety of perspectives and ideas, and more creativity in the workplace, which stands to benefit not just individuals but companies as a whole. However, workplace diversity must begin at the start of the talent lifecycle through broad, representative talent pools. 
Industry Leaders in Action
Don't just take our word for it! Discover how some of the world's leading companies are leveraging Avature to activate sourcing strategies that drive impressive results.
↑20%increased application
Automated sourcing and pre-screening forms increased application rate by 20 percent for a US software company.
↓40%cost per hire
Avature WebSources was crucial to ABB decreasing cost per hire by 40 percent.

12Kapplicants, 1800 hires
A Fortune 500 telecoms company uses WebSources to run nightly searches and custom workflows to deliver personalized invites to sign-up portals. This converted into 12k applicants and 1800 hires through this channel!