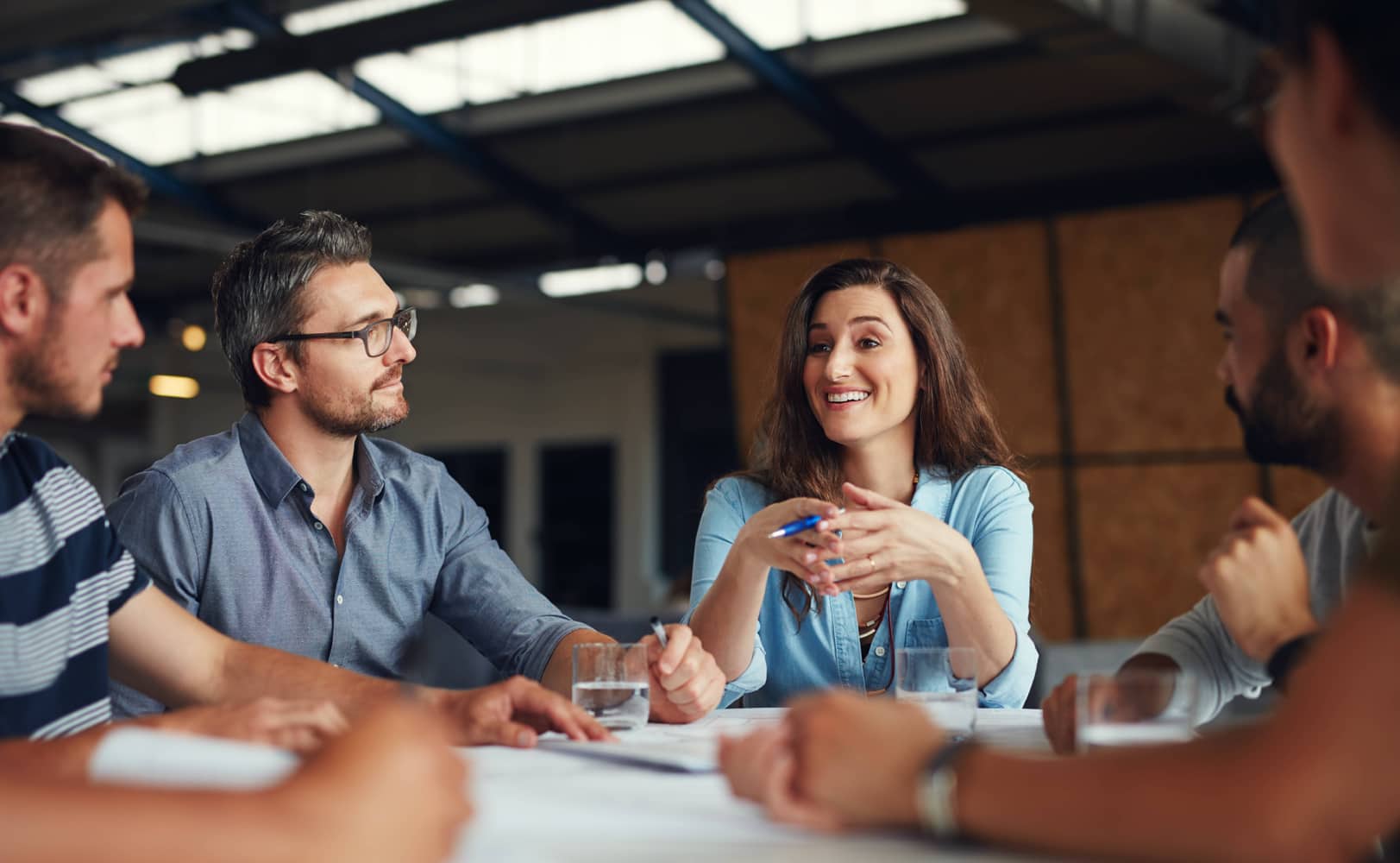 Welcome to Total Talent Management
Building rewarding and sustainable relationships with your workforce has never been easier with our one-platform approach to talent management.
Request a TM Solutions Tour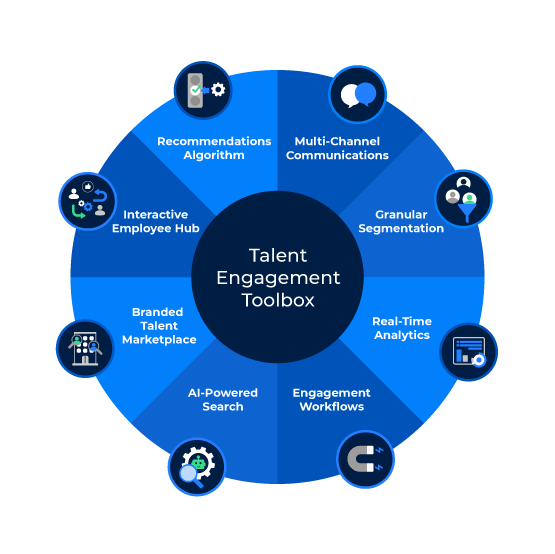 A Relationship-Building Ecosystem
With deep roots in the development of agile technology for sourcing and recruiting, we recognize that strategic HR is all about building and managing relationships. Leaning on our 15 years of experience and expertise in recruitment marketing, we understand that internal talent success in this era of the "great resignation" demands ongoing and seamless communication across multiple employee engagement touchpoints.
For this reason, we designed our talent management ecosystem (from onboarding to performance management and talent mobility to employee engagement) to help you better segment, engage and provide your workforce with a more meaningful employee experience. Unify messaging, leverage preferences and build relationships that last with Avature.
See it in action
Fully Flexible, Truly Configurable
The reality of strategic HR is that no two organizations manage talent in the same way. What most companies need (regardless of size, culture and industry) is a truly adaptable and agile solution. While insufficient technology and strategic limitations tend to restrict talent initiatives in the modern enterprise, our talent management suite overcomes these constraints with fully flexible and truly configurable technology that can be tailor-made to the needs of each organization.
For example, whether you prefer agile performance management or traditional ranking systems, horizontal employee development or vertical career growth, we can create a strategic HR toolbox that evolves with you while meeting both your business goals and the demands of an ever-evolving workforce.
See it in action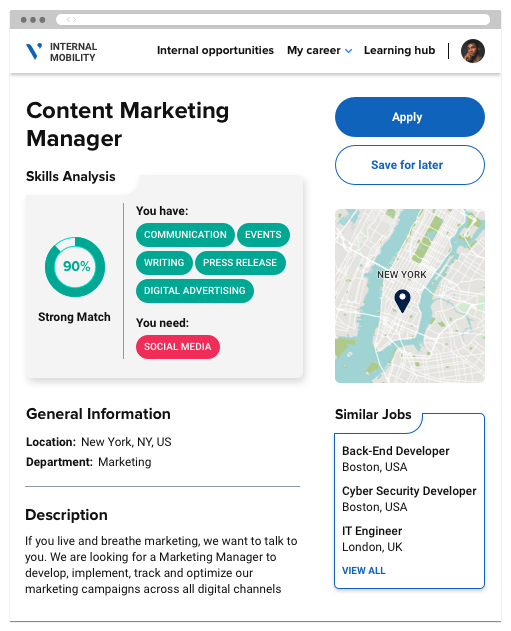 A Talent Lifecycle Driven by AI
Avature's AI models drive the talent experience and help companies face the principal challenge of the current environment – retaining talent. With AI roots dating back to 2013, our experts have designed a talent management ecosystem capable of eliminating repetitive and time-consuming tasks, lowering the operating costs of talent management activities and providing employees with a talent experience engineered to help them reach their full potential. This is particularly true when it comes to the "new currency" of talent – skills.
As the knowledge and expertise demanded of the modern workforce continues to develop at a rapid pace, the need for agile skills management has never been greater. Our robust AI and machine learning frameworks empower organizations to take advantage of Avature's expansive skills ontology to automate the extraction of skills-related data to evaluate employees, provide them with relevant development opportunities and identify workforce skills gaps.
See it in action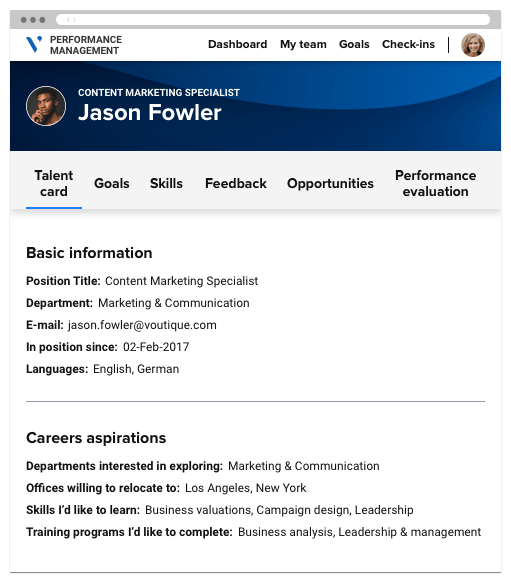 One-Platform, Limitless Possibilities
At Avature, we firmly believe that a modern talent management technology should move beyond the silos and communication barriers of traditional HR and merge the core pillars of enterprise talent management. With our one-platform approach, we provide organizations with a multi-solution ecosystem focused on talent, driven by data and capable of bridging the gaps between performance management, employee upskilling, career-pathing and workforce engagement.
Empower your HR stakeholders to easily consolidate all employee-related information as they deliver a best-in-class employee experience and manage company-wide talent initiatives from a single location
Powerful Reporting and Data Dashboards
Data is nothing without reporting. Avature allows you to report on any element of your custom data model and processes. As long as the data is in Avature, you can measure it, visualize it and track it. Our sophisticated reports and dashboards give your talent management stakeholders the power to make real-time strategic decisions and better develop workforce relationships over the course of the employee lifecycle.
You can customize all dashboards to provide each user an at-a-glance overview of relevant information as it relates to your workforce – from talent gaps to workforce skills distribution to employee wellbeing. Break down these metrics by division, location, position type or any other criteria relevant to achieving organizational goals and driving a one-of-a-kind talent experience.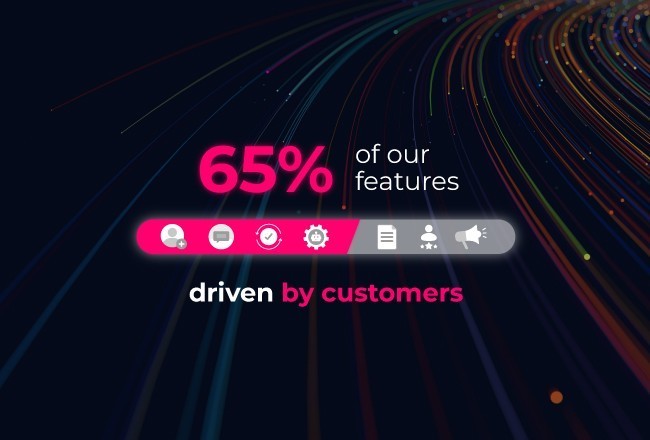 A Roadmap to Meaningful Collaboration
At its core, talent management is an exercise in meaningful stakeholder collaboration. We designed Avature as an agile relationship management platform capable of improving workflow visibility, fostering a culture of consistent and sustainable engagement meeting the needs of all participants across the talent lifecycle.
With 65 percent of our features driven by customers, they play a vital role in shaping the Avature platform. It is in this spirit of partnership that our customers will continue to help us define our people-centric approach to talent management as we support them in their quest to take on the most complex HR challenges of today.
Achieve Breakout Performance With Avature Talent Management
Tap into the talent at your fingertips and craft career paths and employee experiences that drive your organization to greater success
Contact Us