Following the madness of the holiday shopping season, 'tis the season to settle in and think strategically about this year's retail hiring plans.
During the 2017 holiday season, U.S. retail sales increased by 4.9 percent over the previous year, according to a recent Mastercard SpendingPulse report. In order to meet consumers' needs, retailers must stock their stores with not only high-quality merchandise but also high-caliber employees.
To continue on this path of growth in 2018, retailers should aim to attract and engage candidates year-round—before, during, and after the consumer demand hits stores. In order to hire right, technology for retail recruiting will be invaluable for store managers to think mobile, be social, and go automatic.
Mobile All the Way
We're in a new era of communication—texting is the most prevalent way of communicating for Americans under 50. Within the past decade, the number of texts sent monthly has increased more than 7,700 percent.
This year, retailers will attract talent in-store by posting QR codes or SMS keywords that direct customers to an online application.
They will also use text-to-apply campaigns, which provide the entire application via SMS. Instead of being directed to a site, candidates receive simple questions over SMS: What is your name? What is your email address? Do you have experience in retail? How many years? Candidates reply by text, giving store managers the essential information they need to move forward with the application process.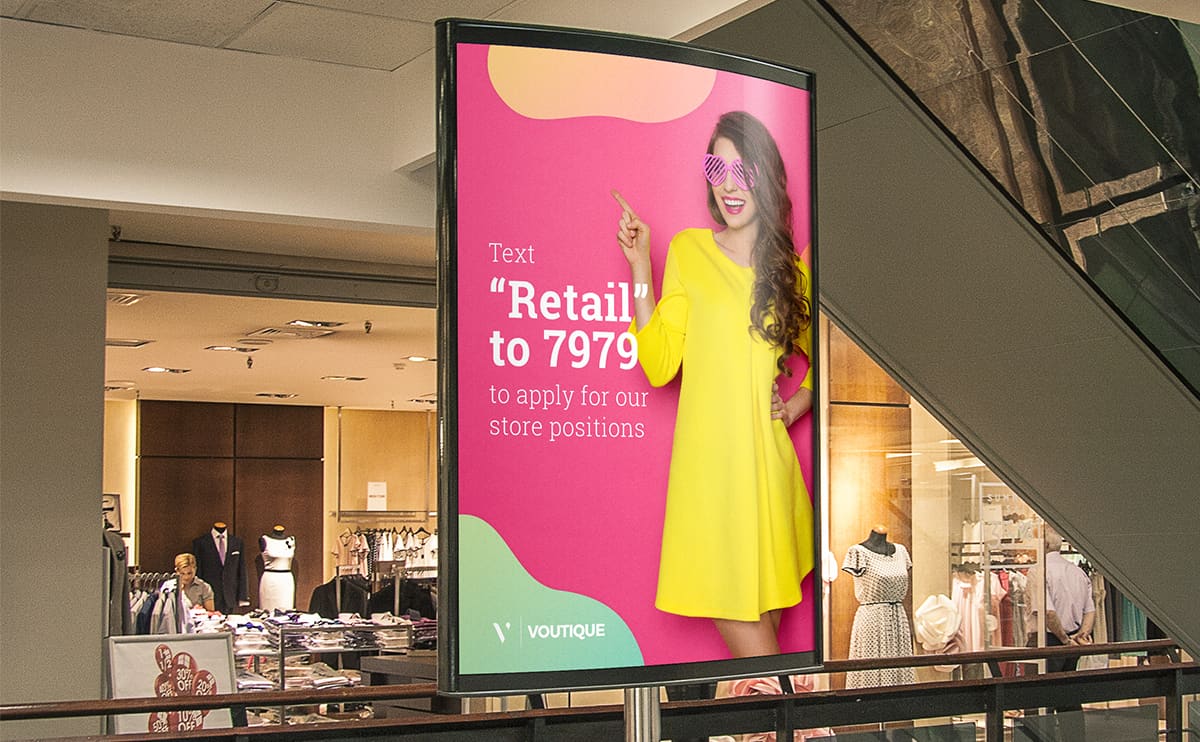 Personalized Careers Site
Because today's candidates use electronics to execute everyday tasks, retailers can engage with them via cell phone apps or mobile-optimized websites.
This year, personalization will reach new heights. On career sites, retailers can customize the job opportunities they showcase according to the prospective candidate's location or browsing history. They can also invite candidates to upload their resumes on the career site and use this information to then send them customized job recommendations.
Retailers will use mobile-optimized career sites to tell a complete story about their company culture. Outdoor recreation retailer REI, for instance, showcases its employees, culture and stewardship through videos, photo galleries and visually displayed statistics.
REI uses its site to:
Highlight company values (like "We share a love of the outdoors—natural places for all").
Share benefits through photos and videos (such as REI Yay Days, a paid day off every six months to adventure outdoors).
Provide company insights (for instance, that senior leadership comprises 56 percent men and 44 percent women).
Social Recruiting
Hiring cultural fits reduces flight risk. Traditionally, employee referrals have proven to be a leading source of quality hires, but social recruitment will grow this year.
In 2018, social media will be about connecting with the right candidates for your brand. On career sites, retailers can add social media widgets so candidates can verify if they know any employees who can recommend them.
Retailers will also better leverage automated features that link social media accounts to career pages. On Facebook's company pages, for instance, retailers can incorporate information from their career site. Candidates see a list of jobs and their descriptions, and when they click to apply, they are redirected to the application process on the company career site. When posting on sites like Twitter, retailers can schedule automatically recurring posts through their retail recruiting solution. Retailers can cater to candidates throughout the recruitment journey by posting links to a talent community, career site, or specific job.
Convergence of Consumer and Employer Brands
Retailers will achieve the desirable conversion of brand-loyal customers to candidates by leveraging their consumer brand's reputation. In a recent Avature webinar, department store chain Belk explained how its recruiting team partnered with its marketing department to align their messages. The company built an in-store standard of developing an "emotional connection with the customer, not a transactional effort", so it now shares employee stories on its website and social media accounts. The company also sends email campaigns that not only share store promotions but also highlight job openings.
This year, retailers will blend the brands even more. Employees will play a prominent role, and with good reason: they are trusted 53 percent more than CEOs when it comes to employee/customer relations. So company marketers, in addition to recruiters, will give employees the tools to share their genuine insights.
Beauty juggernaut L'Oréal utilizes two hashtags—#LifeatL'Oréal and #L'OréalCommunity—for employees to share their work experiences with their broader networks. This way, employees become brand marketers.
REI also turns to employees to amplify the message of #OptOutside, a campaign centered on closing stores on Black Friday and paying employees to spend the day outdoors. The company compiles employees' photos and shares the resulting video across social channels, garnering positive attention for both employer and consumer branding.
Smart Automation
In retail recruiting, the typical high-volume job post can receive hundreds of applicants. When this happens, store managers waste valuable time skimming through unqualified resumes.
This year, retailers will employ smart automation to streamline the screening process. Using these tools, retailers can compare and rank a high volume of candidates based on criteria such as skills, experience, shift availability, and behavioral assessment score.
These tools will also prove useful for seasonal hiring. Retailers can use segmentation capabilities to sort candidates by desired criteria (such as former seasonal employees) and then automate email reminders at peak hiring times.
In another use of smart automation, retailers will integrate their retail recruiting solution with chatbots to answer candidates' questions about the application or screening process, relieving recruiters or store managers of this time-consuming, sometimes tedious task.
Self-Scheduling Interviews
When hiring numerous staffers at a time, store managers must struggle through one particularly tedious detail: scheduling interviews. But some companies, including omnichannel retailer Macy's, are streamlining this process. A couple years ago, the company launched its National Hiring Day, when recruiters invited former seasonal employees to reapply and then scheduled a mass amount of interviews on one day.
This year, retailers will take it a step further with technology that enables candidates to self-schedule their interview from available time slots. As with the rest of candidate-facing technology, these time slot portals will be fully branded and mobile optimized.
By creatively sourcing and engaging talent—and then storing this information for seasonal hiring needs—retailers will be equipped to face recruiting challenges throughout 2018.