Recruitment marketing is changing the way large enterprise organizations recruit and engage candidates. As the practice of using marketing strategies to promote your employer brand in such a way that effectively attracts and retains talent, recruitment marketing is shaping talent acquisition for leading brands. This guide will introduce the market trends driving the need for an agile and engaging approach to candidate engagement. Expect to learn best practices for implementing a holistic approach to recruitment marketing that effectively fills talent pipelines and helps future-proof your organization.
Table of Contents
Market Differentiation: Get Ahead of the Competition
A Stand-Out Candidate Experience: Become Remarkable
The Ability to Reach Passive Candidates: Drive Candidate Buy-In
#1 Social Reach: An Effective Way To Connect With Talent
#2 Talent Networks: Build the Perfect Audience for Your Content
#3 Career Microsites: Bring Your Brand to Life
#4 Employee Referrals: A Veritable Gold Mine for Sourcing
SMS Campaigns: The Silver Bullet For Your Recruitment Marketing Strategy
Email Campaigns: A Staple of Effective Recruitment Marketing
Workflow Automation: The Driving Force Behind the Best Campaigns
Measuring Success: A Critical Step in Assessing Your Approach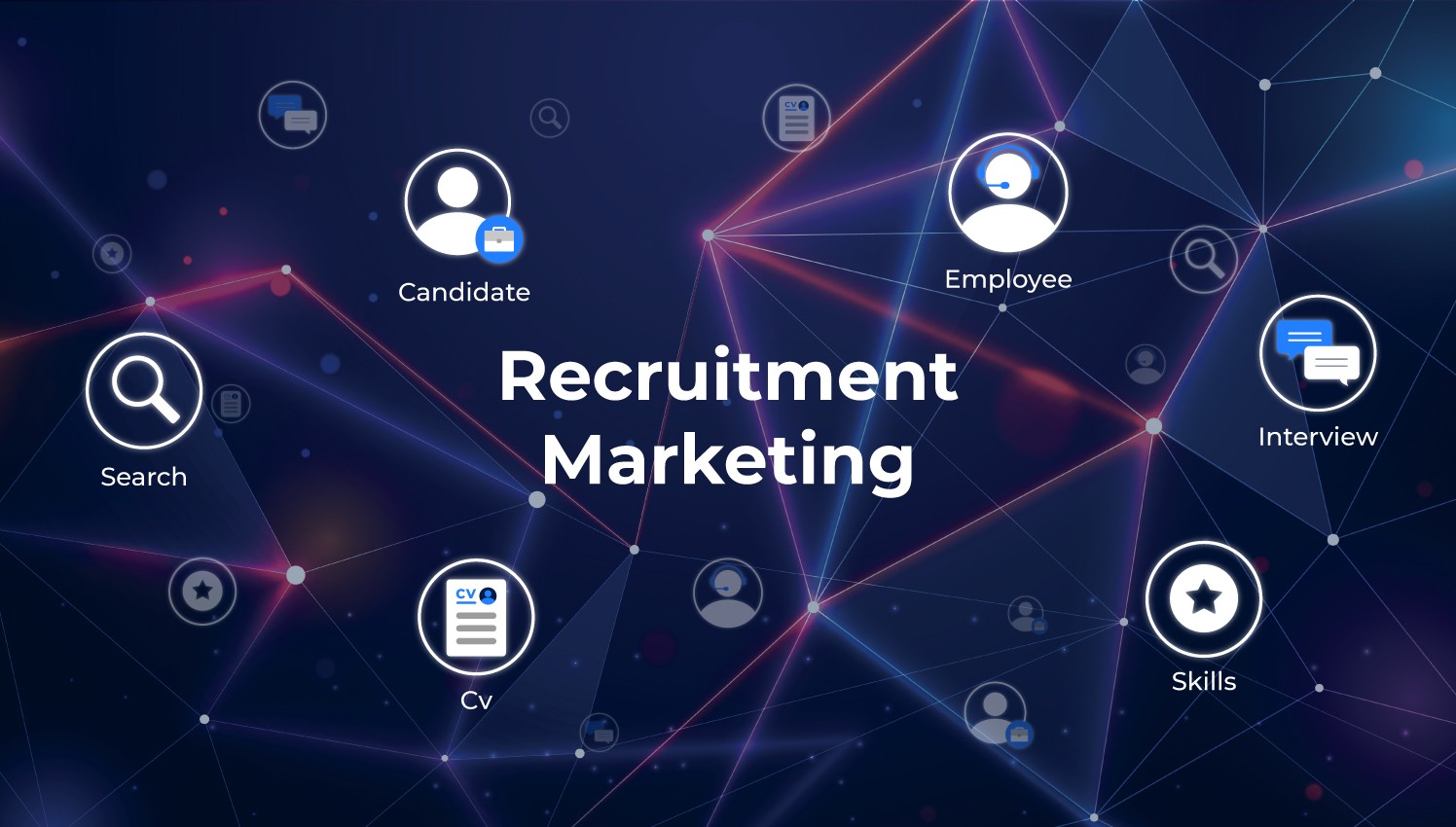 Benefits of Digital Recruitment Marketing
The juicy part comes first: Let's talk about the benefits.
While the perks of recruitment are countless, we're focusing on the ones that pay off and stand out the most (aka the ones you'll surely want to know more about). We're talking about how to stand out from the competition, deliver a positive candidate experience and establish meaningful relationships with the talent you want to connect with.
Have we piqued your interest? Read on for all the details!
Market Differentiation: Get Ahead of the Competition
We operate in a candidate-driven market, where talent has the advantage over organizations struggling to find, retain and upskill the employees they need. And while the advent of COVID-19 dramatically changed the rules of the game, it didn't change this fact.
For this reason, when implemented correctly, digital marketing for recruitment helps showcase your employer brand to elevate your company as an employer of choice for top talent.
In other words, displaying a stronger, more unified employee brand, with greater diversity and enhanced engagement across all channels, will give you a significant and undisputed advantage in a competitive talent marketplace.
Regardless of whether you're currently hiring or not, you're setting yourself up for future recruiting success by attracting and engaging candidates now.
"The war for talent isn't just a buzzword, it's real. Candidates are expecting faster turnarounds because they have a lot more flexibility in their job selection."

Agustin Donati

Product Marketing Director, Avature
A Stand-Out Candidate Experience: Become Remarkable
Candidates expect the recruitment process to be as easy and seamless as an online shopping experience. Before demonstrating interest, they expect you to be consistently relevant, transparent and personable. That is to say, your recruitment marketing game needs to be strong.
On the flip side, a negative candidate experience won't just dissuade prospects from applying for a position; it can also harm your bottom line. In fact, recent research shows that a negative reputation can increase the cost of each hire by as much as 10 percent.
The Ability to Reach Passive Candidates: Drive Candidate Buy-In
In the context of the Great Resignation, 55 percent of Americans are considering changing jobs. But what about the remaining 45 percent? Taking a proactive approach to sourcing and recruiting empowers you to reach a wide range of prospects – those currently searching, the ones on the fence, and passive candidates (i.e., those who aren't actively looking but might be willing to listen to your proposal).
"Passive candidates are not so passive after all. It probably helps that we live in a FOMO [fear of missing out] society which means that most candidates consider themselves at least semi-active."

Agustin Donati

Product Marketing Director, Avature
So, you should look to establish a long-term relationship with candidates by regularly sharing timely and relevant material – as part of your recruitment marketing plan – such as emails with industry insights, interview tips, stories from your current employees, your organizational stance on key topics such as diversity and so on. This will help you connect with talent and demonstrate what candidates can gain by working for your organization.
If they aren't ready to make the change now, they're much more likely to be interested in your organization later if you've taken the time to nurture a meaningful relationship.
The Right Tools for Your Recruitment Marketing Strategy
Before delving into some specific recruitment marketing tips, it's important to highlight the value of extending your efforts across the entire candidate lifecycle. From attracting candidates to nurturing your relationship with them, you should consider the most appropriate actions and channels to leverage at each step of the process.
The best recruitment marketing campaigns tend to mix and match tools and elements from our list below.
#1 Social Reach: An Effective Way To Connect With Talent
More than 90 percent of recruiters are already using social media as part of the hiring process, so the fact that we are talking about social reach may not come as much of a surprise.
Tapping into sites and apps like TikTok, Instagram or Telegram (to name a few) is all about leveraging the trendiest channels to connect with your candidates while being able to measure the impact of your engagement campaigns.
While social media for recruitment is certainly not new, it is still an extremely engaging tool for showcasing your employer brand and understanding the awareness level that social media users have with respect to your organization and its reputation.
The key to success when it comes to effectively incorporating social reach as a part of your recruitment marketing strategy is to plan, create and share compelling content regularly. Focus on being authentic as you share employee stories, relevant commentary on industry news and other engaging updates.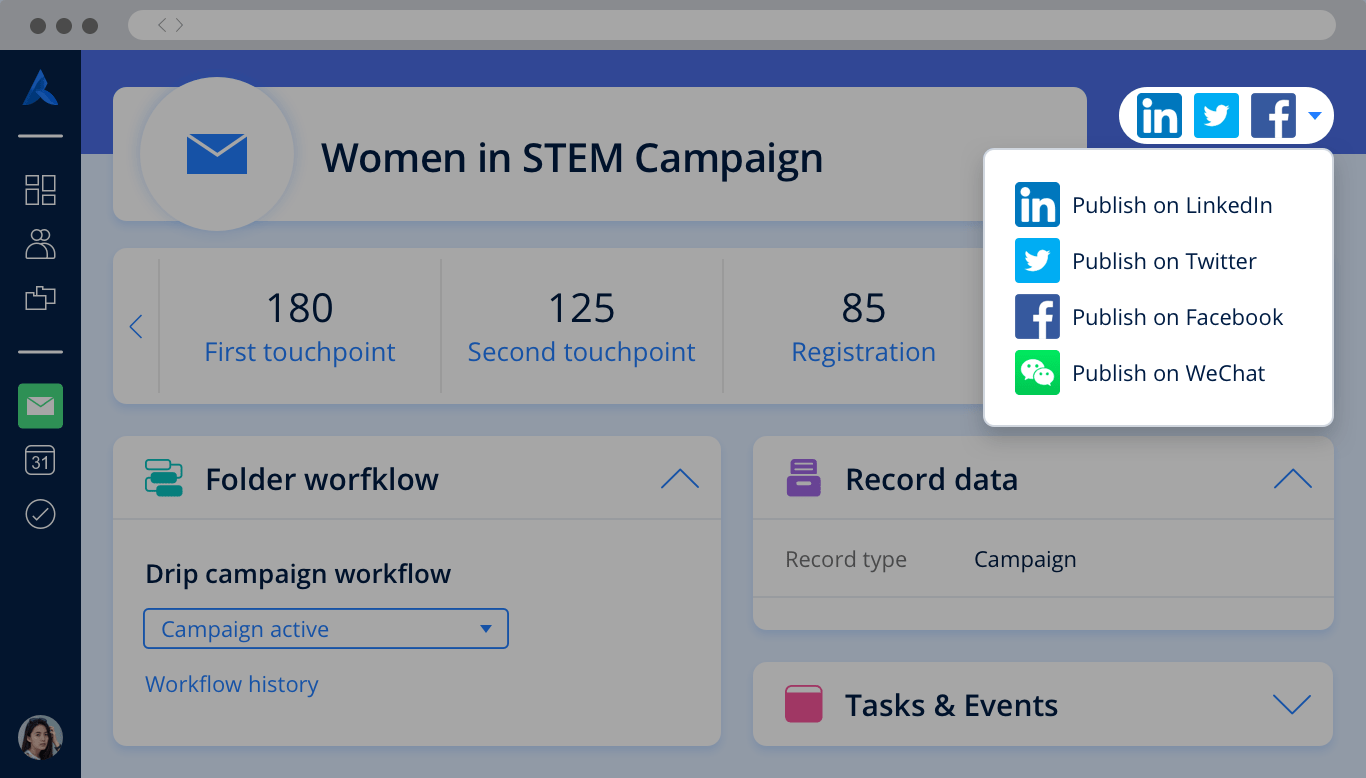 Two great examples of success stories include Avature customers Dell and L'Oréal. Dell, a historic American computer company, focused on creating a localized content strategy to raise brand awareness and engagement. As for L'Oréal, a global leader in the cosmetics industry, it aimed to showcase original content demonstrating what it's like to work at their company.
Anyone with a smart device knows how engaging video and audio content (like podcasts) can be. If you're considering incorporating these types of content assets into your content plan, give them a push of visibility by promoting them on social media.
If your audience is really engaged, these channels should encourage awareness-building conversations. Remember to respond to comments or inquiries promptly, especially if people have had a negative experience with your brand and decide to vent.
Finally, use automation to help you develop and manage the best recruitment marketing campaign possible. Data-driven tools will not only empower you to eliminate repetitive tasks (such as posting or scheduling), but they will assist you in analyzing performance and optimizing future campaigns so you can play to your organization's strengths.
#2 Talent Networks: Build the Perfect Audience for Your Content
As Deloitte Australia knows, creating a talent community is a highly effective strategy for attracting candidates. After struggling to find the highly skilled candidates it required on short notice, Deloitte teamed up with the experts at Avature to create its own talent network. In just one year, they attracted over 5,000 members through this dynamic and engaging solution.
One of the great advantages of setting up this type of community is the ease with which you can take action to promote open positions and engage candidates. For example, you can drive registrations by sharing a link to your talent network across all communications channels, including social media and email signatures.
Once the community is up and running, the next step in your recruitment marketing strategy should be to reduce, reuse and recycle. Reduce advertising costs by sharing job openings with your talent community first, reuse silver medalists when other relevant roles come up in the future and keep candidates who aren't qualified for certain positions engaged by recycling them for other roles.
You can drive even deeper engagement by automatically linking leads to different pipelines and providing them with segmented content over time. Simply ask them for their areas of interest or geographic location to do so.
Regarding the "reduce" portion of this strategy, it's important to note that access to an engaged pool of candidates will drive huge savings for your business. Currently, many Avature customers are benefiting from this approach (cutting time-to-fill and saving big) as they look to increase the total number of talent community hires. One of them – a Swiss multinational food and drink processing conglomerate – recently reported that its total talent community hires now stand at an impressive 43 percent.
#3 Career Microsites: Bring Your Brand to Life
Career microsites are a brilliant tool for showcasing your organization's unique value proposition and capturing candidate interest. They generally display less content than a full-blown careers page, which helps to keep candidates enticed for long enough to convert a clear call to action (i.e., "Apply Now!").
Interested in taking your microsite strategy to the next level? Try creating multiple sites for different geographic locations, areas of expertise, or interest. You can, for example, create a dedicated site for engineering, another for sales and a third for finance. This way, each candidate will arrive at the most appropriate microsite according to their interests and intentions, ensuring they don't get lost in a sea of job openings that fail to provide them with what they are looking for.
Last, but not least, be sure to keep the following tips in mind:
As with all of your recruitment marketing content, be sure to provide a relevant experience by tailoring messages and materials for a specific target audience(s).
Take the time to engage in keyword research and develop content that drives organic visibility and supports your long-term SEO strategy.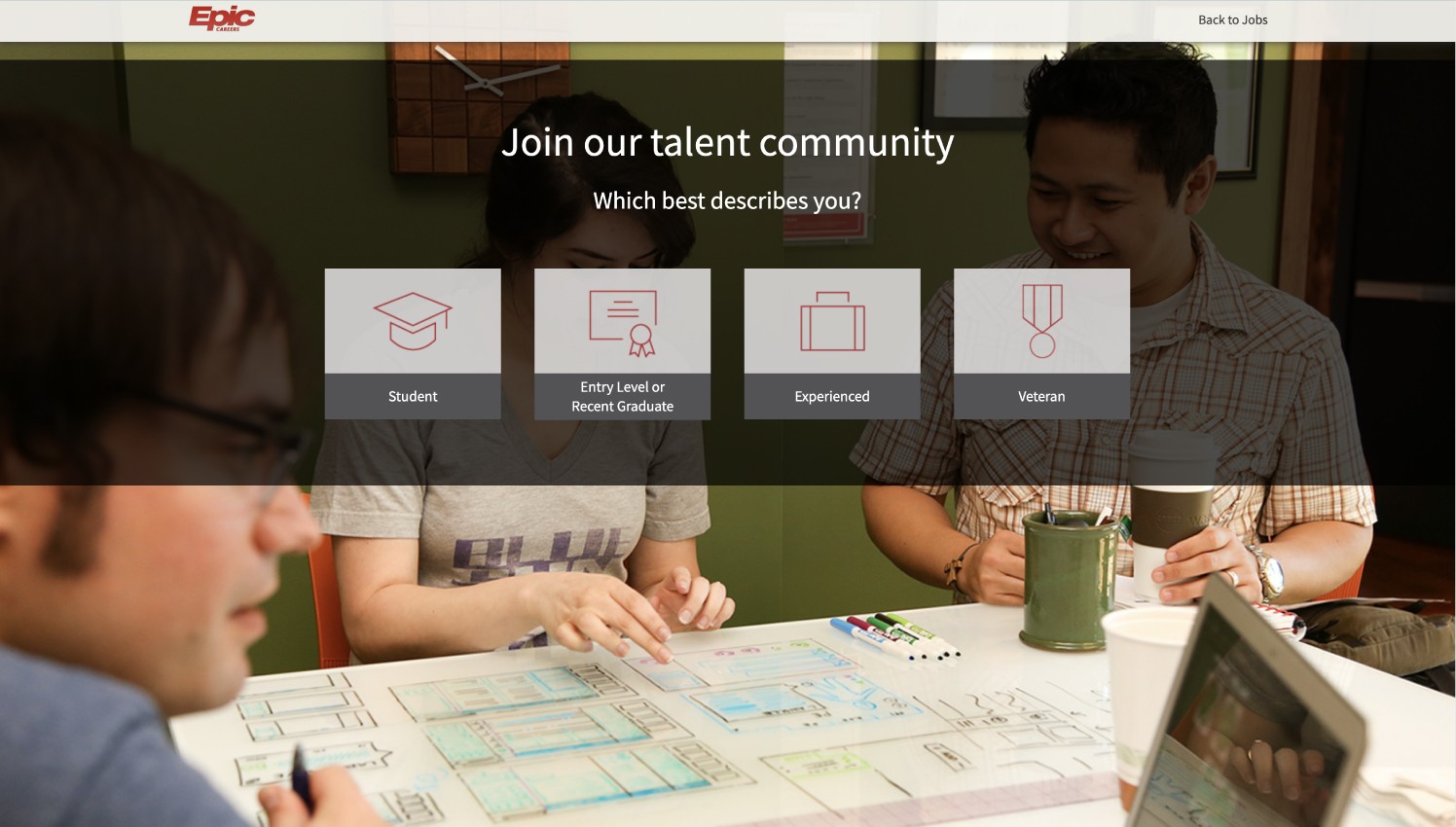 #4 Employee Referrals: A Veritable Gold Mine for Sourcing
"Employee referrals are such a critical source of talent. However, most companies I talk to have real difficulty attracting and, really importantly, tracking referrals. So you can actually build a bespoke portal which can help."

Agustin Donati

Product Marketing Director, Avature
If you don't have a referral program in place, there has never been a better time to set one up!
The best recruitment marketing campaigns embrace this word-of-mouth approach, as it helps reduce time-to-hire, cut sourcing costs and improve time-to-productivity. In fact, many of our customers agree that referrals are their best source for contacting quality candidates because they tend to be a great cultural fit right off the bat.
Therefore, you should aim to tap into the talent that is most easily accessible to you by making a referral program available to your current employees. If you're kicking off a new referral program or looking to give yours a boost, adding an element of gamification goes a long way, encouraging employees to refer their connections to your organization (e.g., point-reward or level-based games).
Candidate Nurturing: The Key to Effective Recruiting
Once you've captured the candidates' attention, you must engage them. At first glance, this may seem relatively simple, but to engage, you must connect with them genuinely and consistently (no easy task). Fortunately, there are a number of tools available that can help you develop, implement and automate a dynamic nurturing strategy – one built for the preferences of the modern candidate.
Let's explore some of the tools and strategies that the best recruitment marketing campaigns incorporate to take candidate engagement to the next level.
SMS Campaigns: The Silver Bullet For Your Recruitment Marketing Strategy
While more senior candidates might find texting intrusive, SMS – with an open rate of almost 100 percent and an average response time of only 90 seconds – is an effective communication channel for both Millennials and Gen Z. One of the great benefits of SMS is that it can be implemented in several ways. For example, you can use SMS to send interview reminders and tips.
From a lead-generation perspective, SMS offers candidates a frictionless way to apply for a role or opt into a talent community (particularly crucial in high-volume recruiting contexts such as retail). For instance, you could encourage interested candidates to text a keyword such as "Join" to a shortcode. With the help of an auto-reply messaging service, they'll receive a reply with a link to your talent community portal where they can sign up.
Just make sure you keep messages short and sweet (include links to job postings to save characters), personalized and always provide unsubscribe and opt-out features to ensure compliance.

Email Campaigns: A Staple of Effective Recruitment Marketing
Email can be a compelling way of delivering highly segmented content to candidates according to their interests, professional experience and location. But, we must recognize that modern inboxes are noisy, crowded and extremely competitive (i.e., only around 20 percent of emails are even opened). If you want your email campaigns to succeed, you need to invest time curating engaging content, developing strong subject lines and creating an eye-catching design.
"Make sure the email comes from a well-regarded address, or even from the recruiting team themselves, and ensure that the subject line is really clear and concise. This should encourage people to open the emails."

Agustin Donati

Product Marketing Director, Avature
One notable Avature success story comes from Philips, where their recruiting team leaned on the power of Avature CRM (plus some recruitment marketing best practices) to tailor custom communications to candidates' preferences. The outcome? They achieved email open and click-through rates that are almost twice as high as the industry average.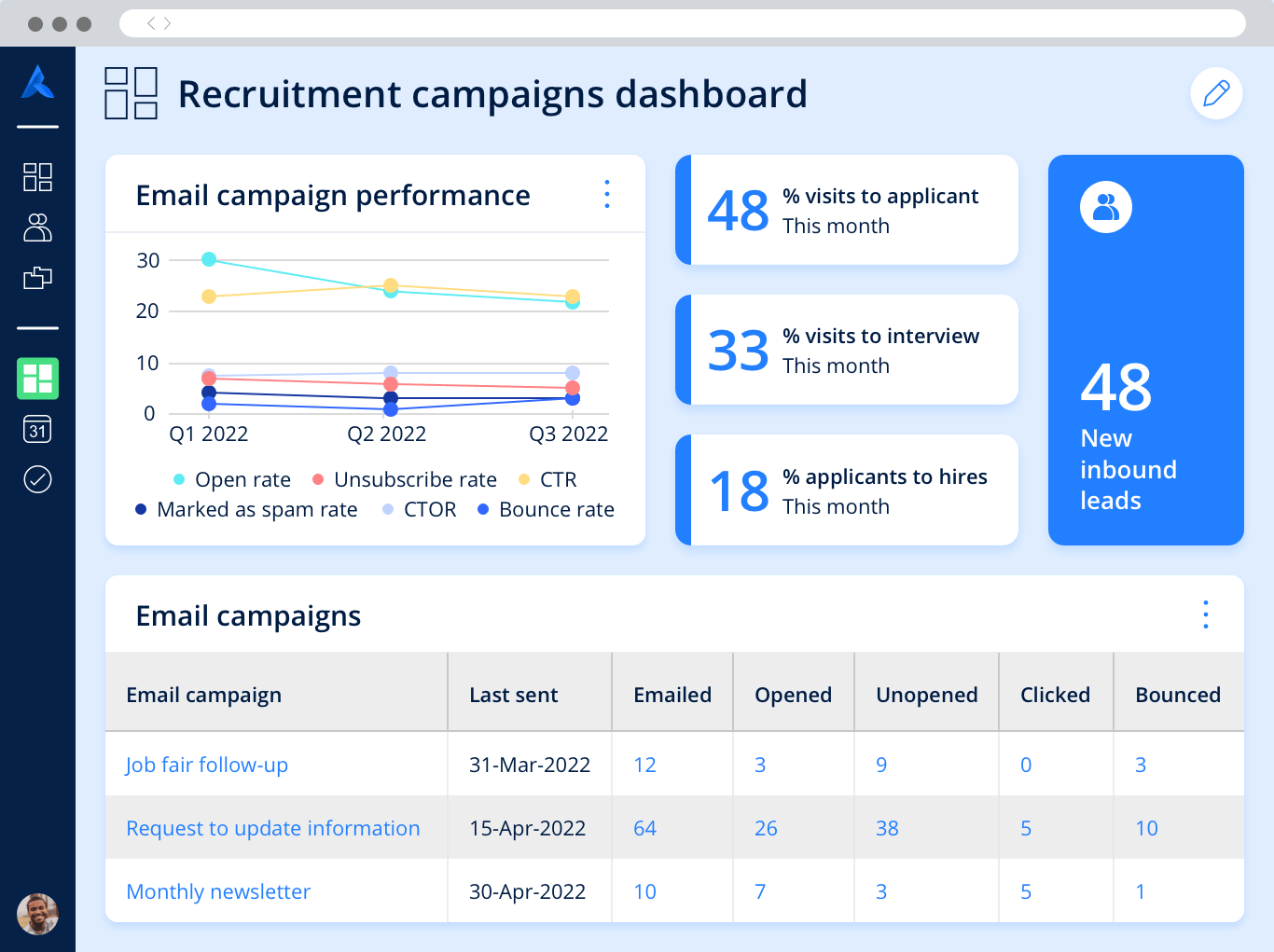 To discover more about email best practices, we suggest you check out our recent guide, The Drip Campaigns Playbook. You will find everything you need to know to set up successful candidate email marketing campaigns here.
Workflow Automation: The Driving Force Behind the Best Campaigns
When it comes to enterprise-level talent acquisition, efficiency is key.
To successfully implement a recruitment marketing strategy that helps you save time and money, you will need a tool specializing in workflow automation.  An agile Candidate Relationship Management platform, also known as a CRM, will empower your talent stakeholders to nurture candidates while also focusing on other business-critical tasks effectively.
Let's imagine the following scenario for your recruiters:
You have a pipeline full of silver medalists. These are highly qualified candidates that you'd like to keep engaged until another opportunity opens up. Without the help of a robust CRM platform, your talent stakeholders would have to make some difficult decisions concerning where to focus their time and energy (i.e., filling open positions or building future talent pools).
A solution like Avature CRM will allow your recruiters to easily set up automated email campaigns that keep silver medalist candidates engaged and interested in your company. They can then focus their time and energy on meeting current organizational needs while still maintaining a talent pool of qualified and nurtured candidates for when relevant roles become available.
Measuring Success: A Critical Step in Assessing Your Approach
A final critical step in effective recruitment marketing is measuring your engagement campaigns' impact. This means data – and a lot of it!
To accurately evaluate the success or failure of your recruiting activities, it's important to standardize and centralize your organization's recruitment marketing tools and processes. The resulting data will better position your talent stakeholders to define what success looks like, including which KPIs are critical to your organization's efforts to build talent pools of top-tier and highly engaged candidates.
Avature CRM contains a powerful recruitment dashboard that enables talent acquisition teams to demonstrate the impact of their strategies. Two Avature customer stories highlight this functionality. First, multinational manufacturer ABB was able to measure a decrease in cost-of-hire by 40 percent thanks to a stronger employer brand and sourcing activities aimed at filling positions in-house. Next, Siemens (another multinational manufacturer) used Avature CRM to measure a reduction in time-to-offer by 80 percent, thanks to pipelining passive candidates.
"The key here is having one source of truth and one source of data regarding the effectiveness of all the activities that you're doing."

Agustin Donati

Product Marketing Director, Avature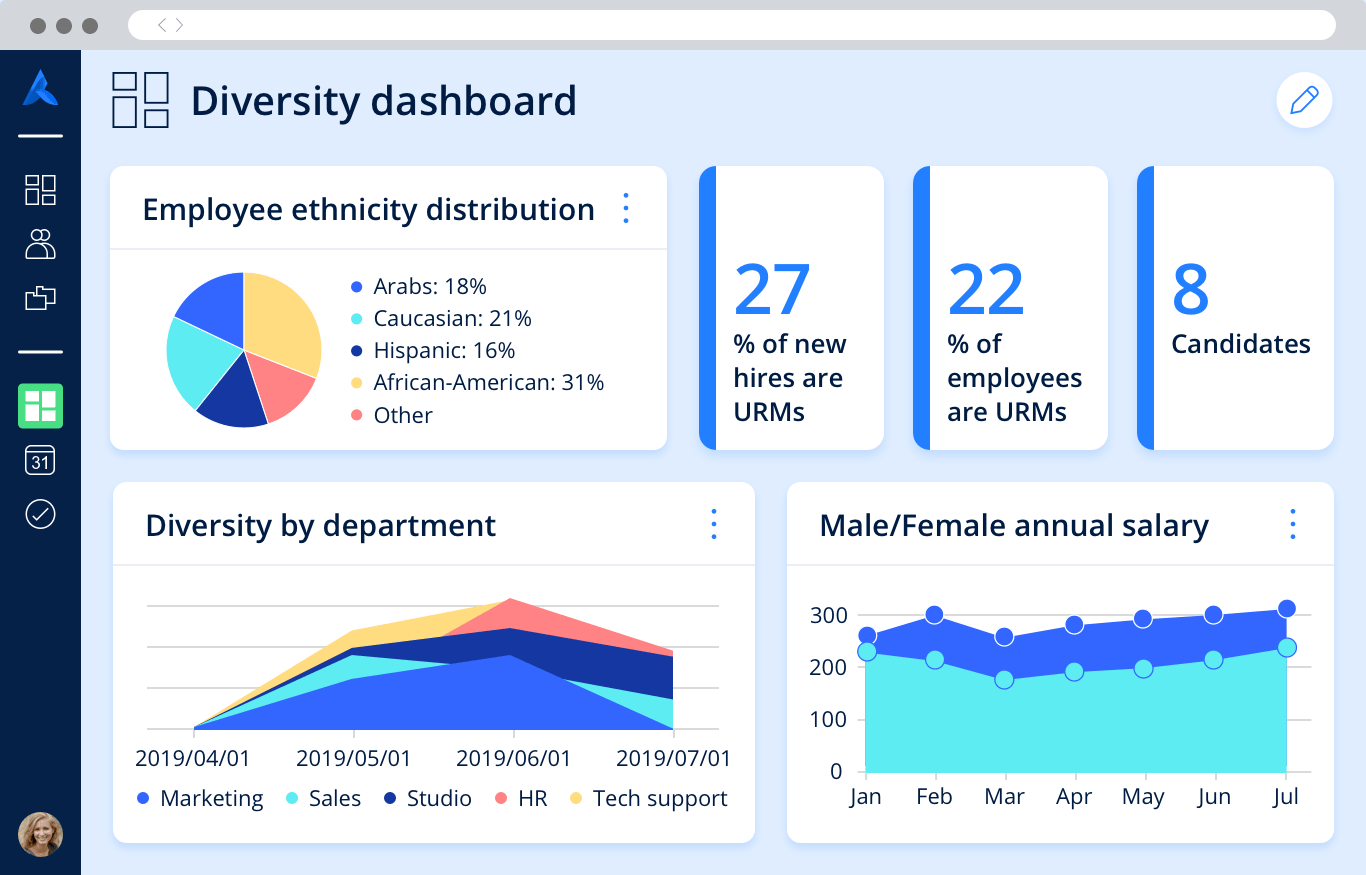 Final Thoughts: Bring Your Recruitment Marketing Plan to Life
If there is anything you take away from this article, remember this crucial fact: the average attention span in 2022 is only 8.25 seconds.
A modern approach to recruitment marketing will position your organization to cut through the noise of the digital age and better identify and engage with top talent. By combining cutting-edge technology with the strategies we reviewed in this guide (i.e., employee referrals, leveraging silver medalists and passive candidates, setting up career microsites, etc.), you can effectively expand your talent pool as you become the employer of choice for candidates in your industry.
Ready to dive deeper into the topic? Visit our dedicated recruitment marketing learning hub to learn more!