Fuelling innovation and growth of the future means attracting the best of tomorrow's talent today. If you're looking to gain a strategic advantage on campus, and put your brand front and center with the students early on in their educational careers, then perhaps its time to rethink your technology.  A robust engagement strategy won't bare significant fruit without the right technology and tools in place.
Here are 3 of 8 key considerations that you should take into account when looking for the right technology partner:
1. Dedicated Software That's Fit For Purpose
In the US alone, 21 million students enrolled in college in the fall of 2015 [1] – a whopping 5 million increase since 2000. Learning how to attract, engage and convert this growing segment on such a large scale requires more than just a stand-alone recruiting solution such as an ATS or a CRM. Despite modern day SaaS technology and integration advancements, stand-alone recruiting solutions fail to take into account that graduate recruitment has a longer lead-time from source to hire (often 4 years or more).
Furthermore, these solutions fail to recognize that campus recruiting entails very different processes and stakeholders than normal recruiting channels; it demands a combination of recruiting, event management and recruitment marketing techniques. These areas have very diverse activities, from collecting and screening résumés, to managing the promotion of a number of recruiting events, event logistics, cost tracking, registration and engagement.
To navigate both the complexities and opportunities presented on campus, your recruiters need an all-in-one technology that marries these seemingly disconnected areas with real-time collaboration tools. These will ultimately give you and your recruiters the power to flex your processes to specific recruitment needs, or address critical talent segments on the go.
2.  Sophisticated Engagement Workflows to Build Relationships
Many organizations are successfully leveraging their career sites, email marketing and SMS channels to stay in touch with students. However, the technology platforms that truly allow recruiters to nurture their relationships with thousands of students and add real engagement power to their recruiting strategies are the ones that put workflow configuration, advanced segmentation and personalization tools into their hands.
With these tools recruiters can build sophisticated communication workflows based on conditional triggers that leverage any information within your database, including graduation date, end of exams season, registration to an event or a talent pool, and even inactivity, to intelligently automate short, medium and long term engagement.
For example, every January you may send a company newsletter to your student database. Recruiters could set a workflow condition that recognizes if a second year student only clicks on an internship related link. That could then trigger a follow up email inviting them to find out more about internships at your organization, and also send an email to the recruiter in charge of interns to make contact. At the same time you may have met a student at an event who seemed very interested in your organization, but sadly they haven't interacted with any of your campaigns following that event. After a certain period of inactivity, this could trigger an email to a recruiter to give them a call to see if their interests have changed.
3.  Advanced Database Search Functionality & Quick Screening
The very nature of graduate recruitment means your database constantly evolves and expands. While advanced Boolean search that comes with best-in-class solutions gives you the power to effortlessly segment, identify and manage your student database, accurately analyzing and selecting top potential talent still requires a human touch.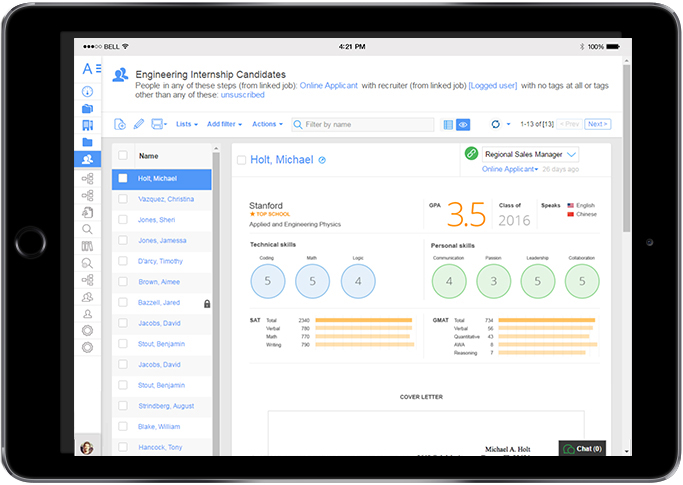 As a recruiter or hiring manager you need to clearly see the most meaningful data about each candidate to be able to act upon it. Your software should allow you to create custom views to display any information in your database that's important to you and your teams. That could be the school students attended, their GPA, their GMAT scores, their technical skills or even a preview of their resumes. In addition your recruiters should be able to view multiple candidate resumes and switch between them quickly without needing to download or open a document in a different screen, adding agility to the screening process and significantly improving candidate management.
In Part 1 of our series on Rethinking Technology for Campus Recruiting, we have outlined key technological considerations to empower your recruiters to better engage with the next generation of talent. Join us next week for Part 2, where we will talk about what recruiting agility really means, the power to manage multi-recruiting programs in parallel and the metrics that matter to you and your organization.