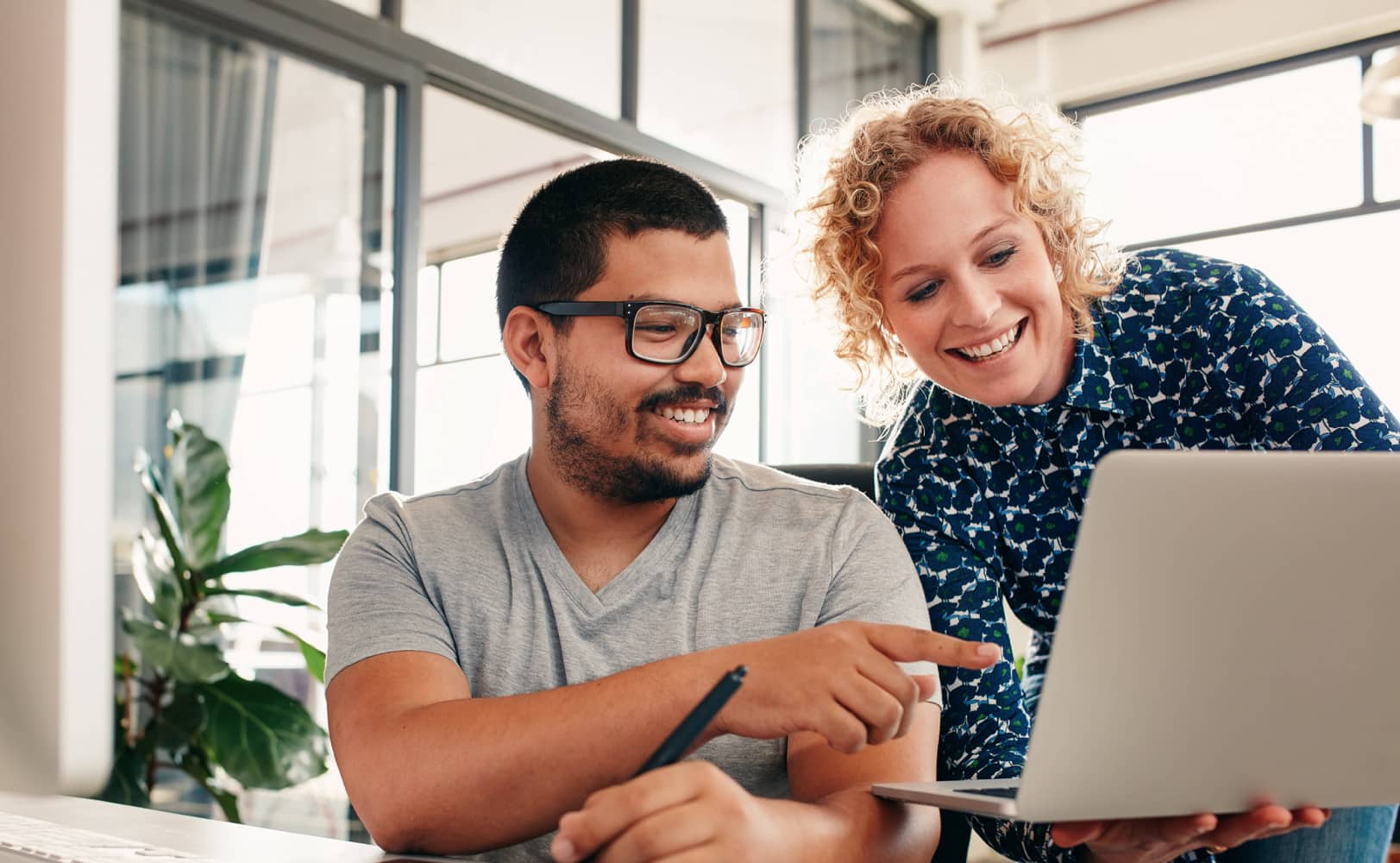 Applicant Tracking System
Avature ATS redefines the user experience for candidates, recruiters and hiring managers.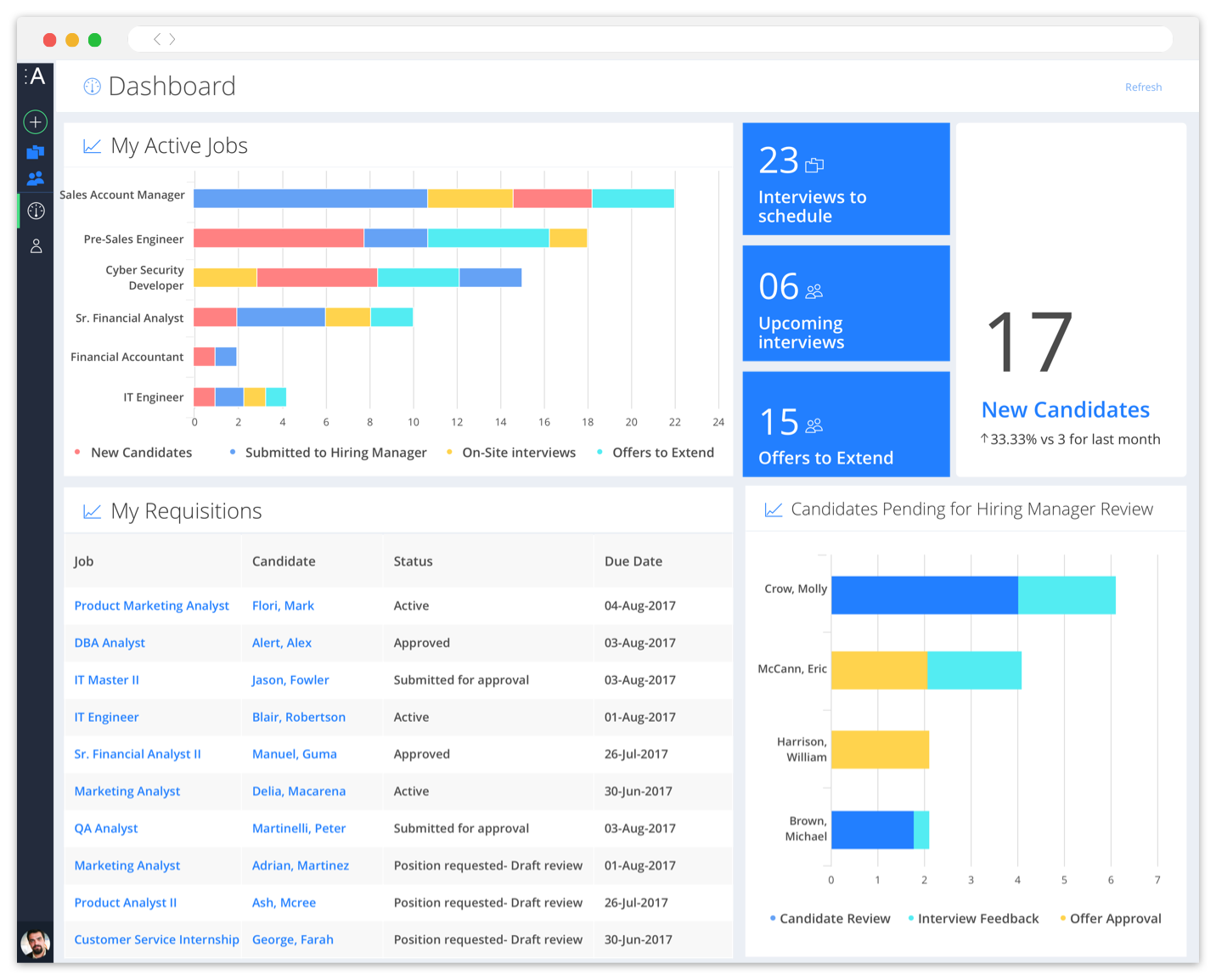 Why Avature ATS? 
Avature Applicant Tracking System is a comprehensive enterprise solution that can manage executive, professional and hourly recruiting efficiently and effectively thanks to its powerful automation capabilities. Moreover, our whitebox approach to AI ensures that the visibility and control enterprises need is maintained.
Avature's one-platform model offers the most comprehensive recruiting suite available today. It simplifies recruiter training, centralizes valuable candidate data and makes compliance easier to achieve.
Combine Avature ATS, Avature CRM and our groundbreaking social onboarding solution for the most comprehensive recruiting suite available today and transform your recruiting organization into a digital business inside your company.
Book a Demo
See it in action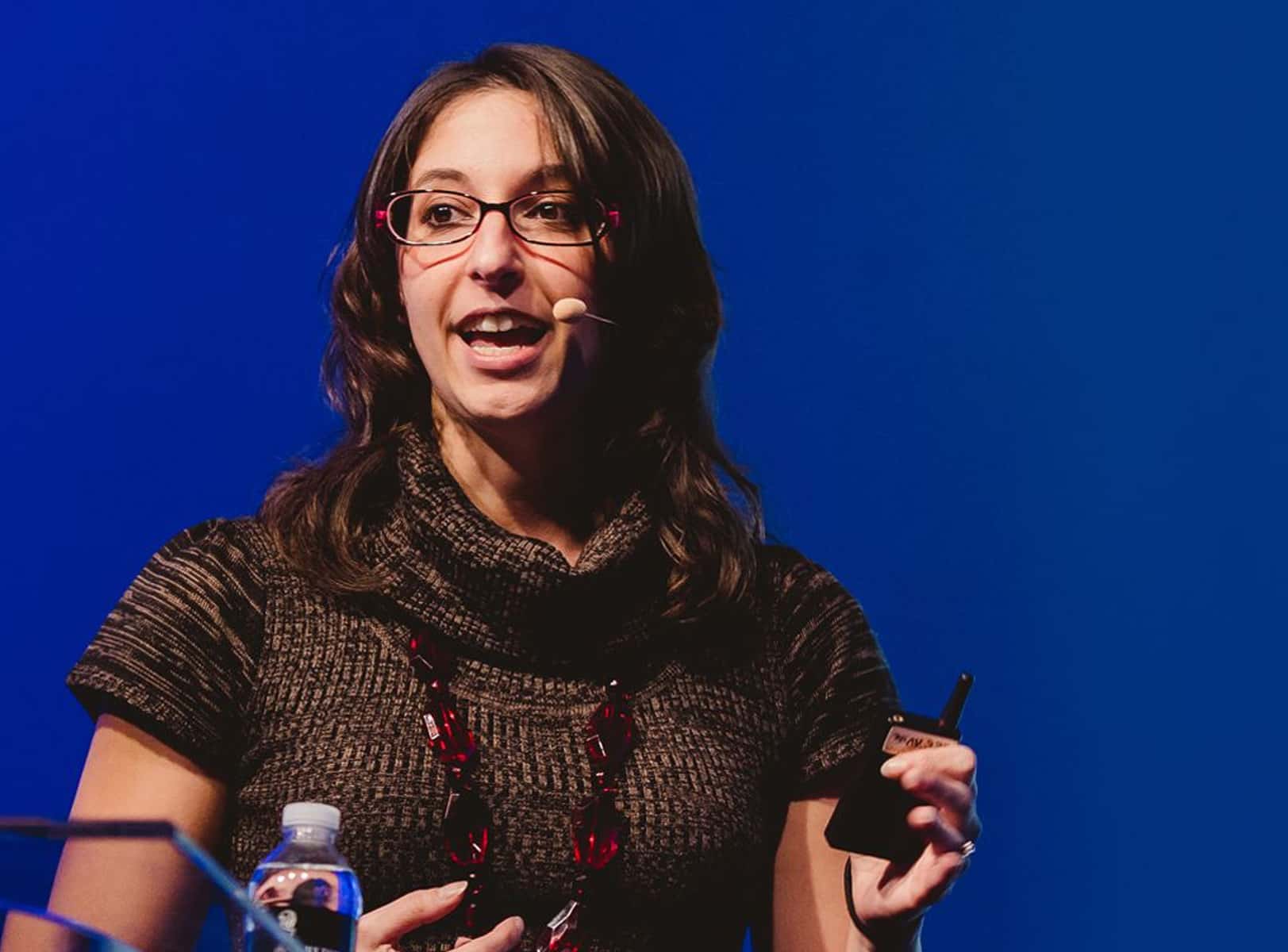 The candidate experience has really improved since we've implemented Avature. The ease of being able to apply via your phone or by simply using your LinkedIn credentials is great - we've definitely seen an influx of candidates doing that. In addition, the Hiring Manager Portal has provided a great service to our hiring managers - it's really developed the relationship between them and the recruiters. Now everybody has a lot more access and visibility throughout the recruiting process."

Tayler Barry
HR Generalist, NuVasive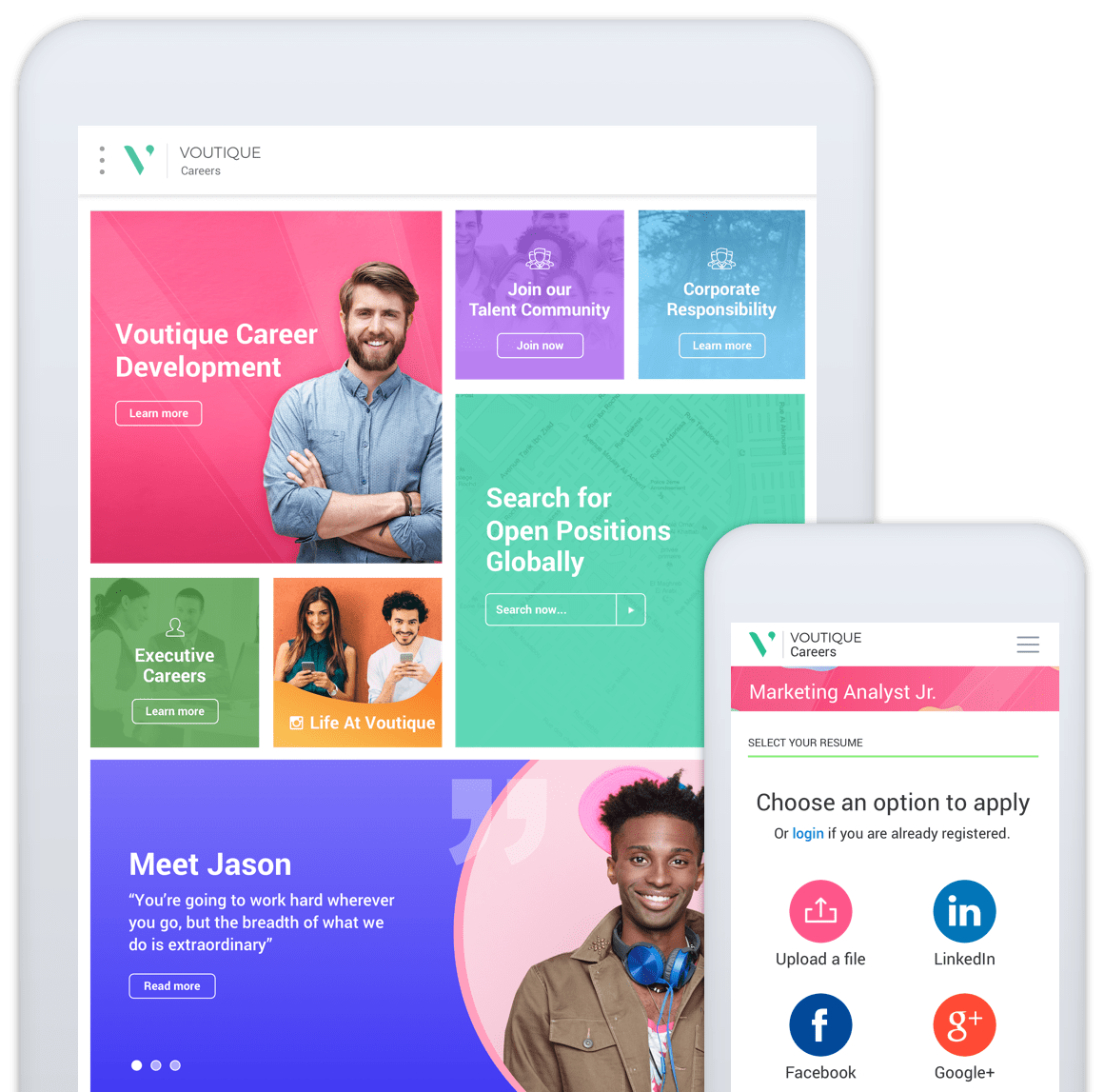 Career Sites and the New Candidate Experience 
You don't get a second chance at first impressions. With Avature's AI-powered career sites you can provide candidates with an Amazon-like experience. Offer a streamlined application process, integrated with social profiles, smart recommendations based on skills, experience or location, and a one-stop shop where they can track the status of their applications and create job alerts. Boost your corporate identity with our fully tailored and bespoke branding capabilities.
Powered by Artificial Intelligence
Leverage powerful AI algorithms to take your hiring process to the next level.

Powerful matching capabilities automatically recommend qualified candidates or can search your database using similarities in your top talent to find hidden gems that could otherwise fall through the cracks.

Semantic search enables your recruiters and sourcers to search more intuitively and keep up with new job titles and industry-specific jargon in a time of an ever-evolving professional lexicon.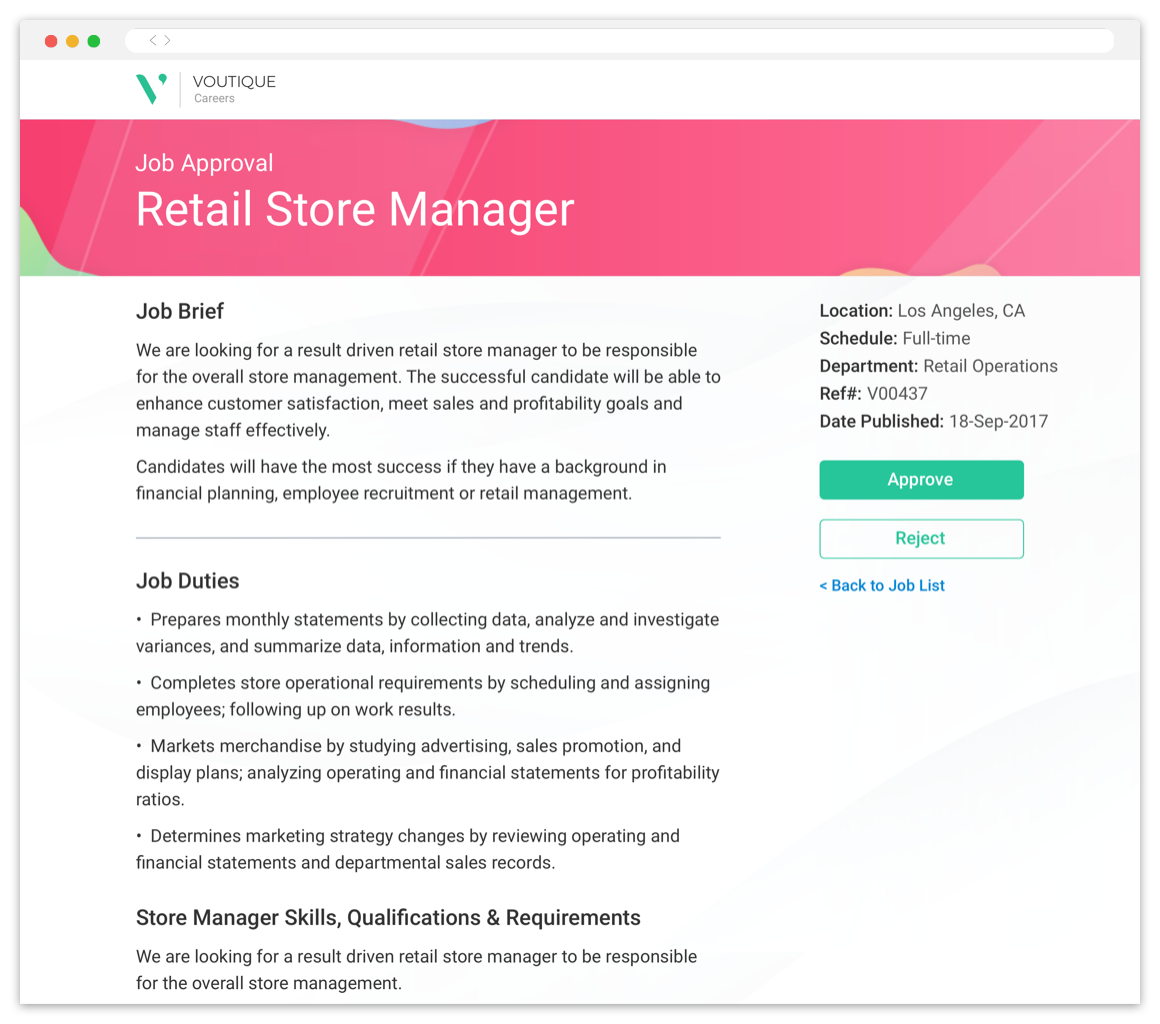 Create Smart Jobs & Automate Approvals
Streamline your job creation and approval process with automated or semi-automated workflows based on the custom requirement of different regions, roles or business units. The same powerful AI algorithms that enable candidate recommendations can predict the ideal skills a candidate should have to fulfil a role based on its job description.
Support Inclusive Hiring
A diverse team is an innovative team. Avature provides a wide set of tools to support your D&I initiatives. Start early with talent pools for diverse leads and candidates fed from tailored targeted landing pages and email campaigns.

Reduce bias during the recruiting process with a hiring manager blind screening portal that hides sensitive data and highlights skills, scores and recruiter ratings. Embed training videos with tips and tricks for inclusive hiring practices into your stakeholder sites. Continuously improve your D&I practices by providing your executives with insights into how inclusive your hiring process truly is with a diversity dashboard.
Request a Demo
Enhance the Autonomy of Your TA Teams
Avature puts the end user in the driver's seat by eliminating red tape and simplifying potentially technical processes with a number of self-service tools. Our advanced Content Management System (CMS) lets your teams change sites and landing pages with ease.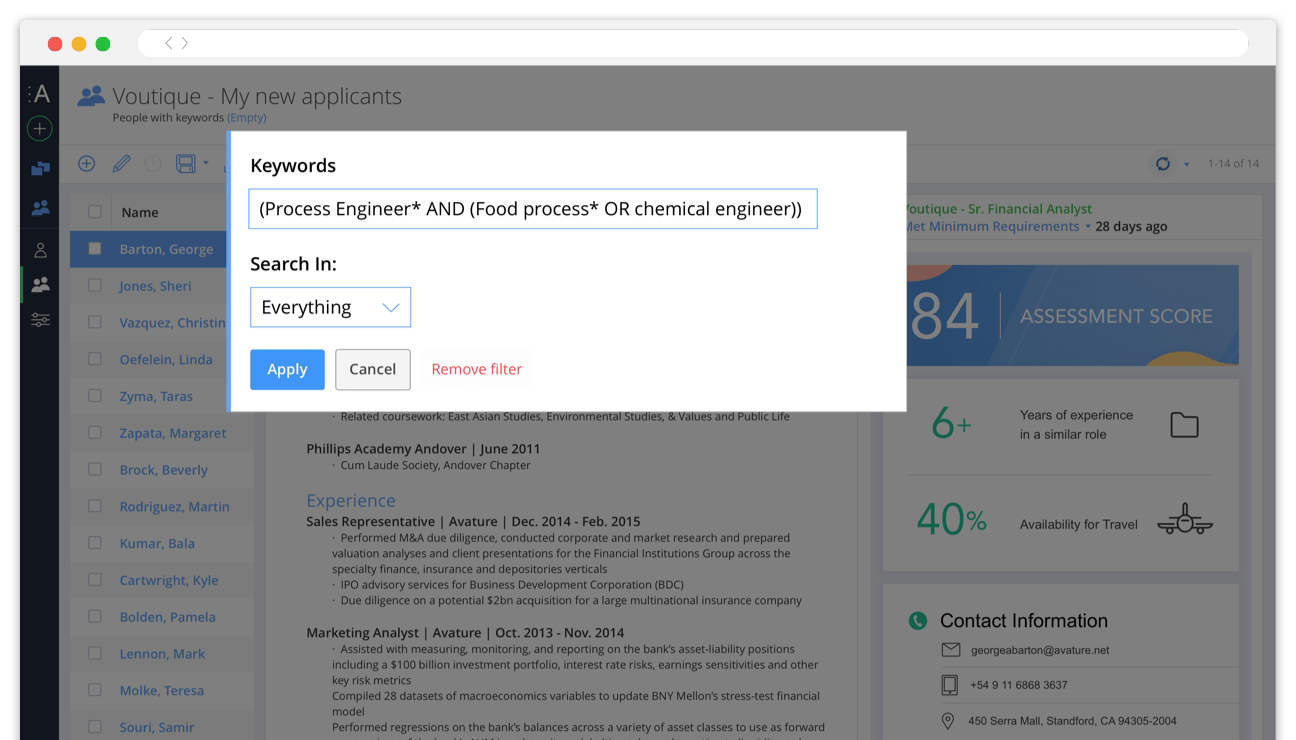 Strategic Semantic Search
Recruiting databases often contain huge amounts of candidate information, making talent acquisition teams increasingly dependent on effective searching. But finding the best candidate can sometimes feel like looking for a needle in a haystack.
Avature's high-powered, yet intuitive semantic search helps you find the top talent you already have in your database. Get smart suggestions to refine your search, reducing the learning curve for new industries or changing jargon. The user friendly search tool means you don't need to be a Boolean expert to find the best leads and candidates, so they can focus on strategy.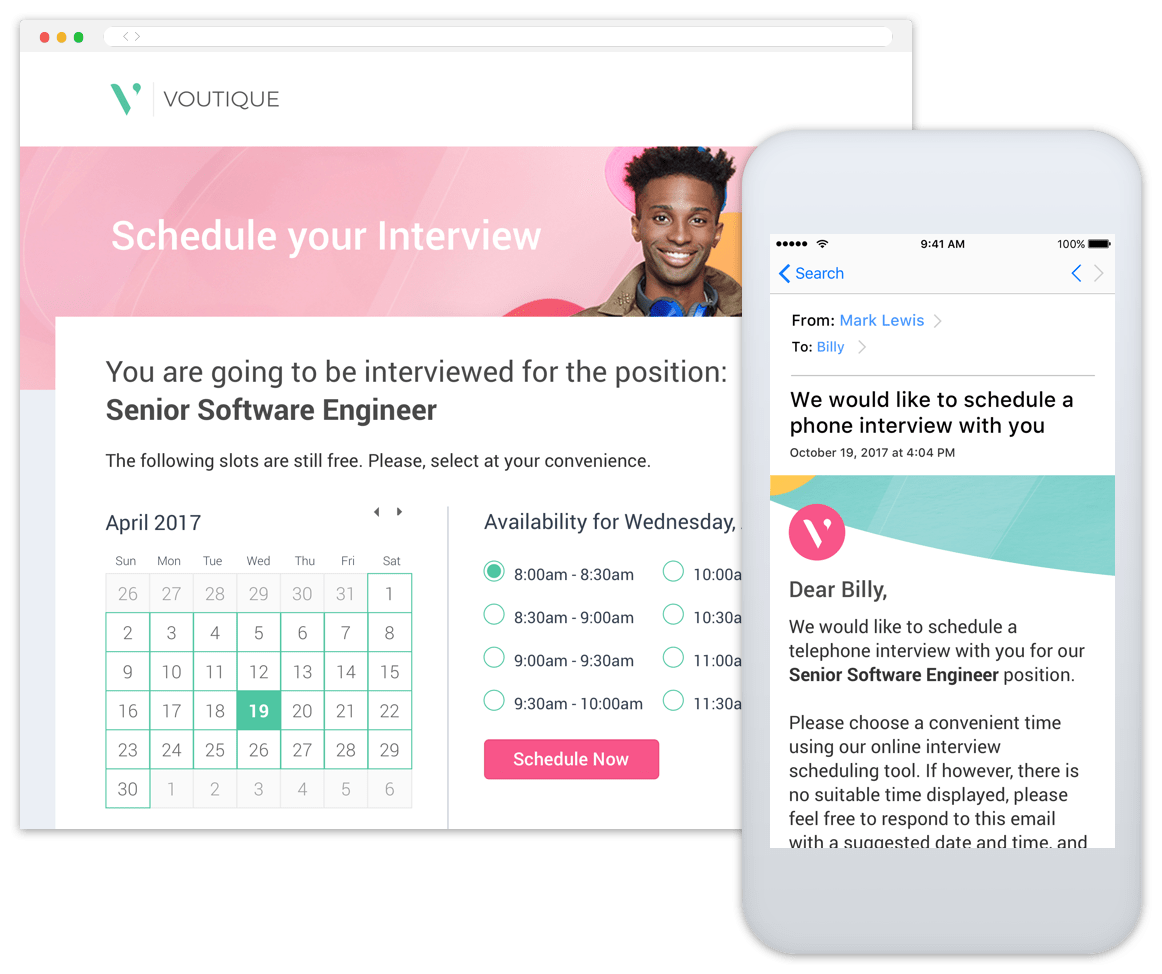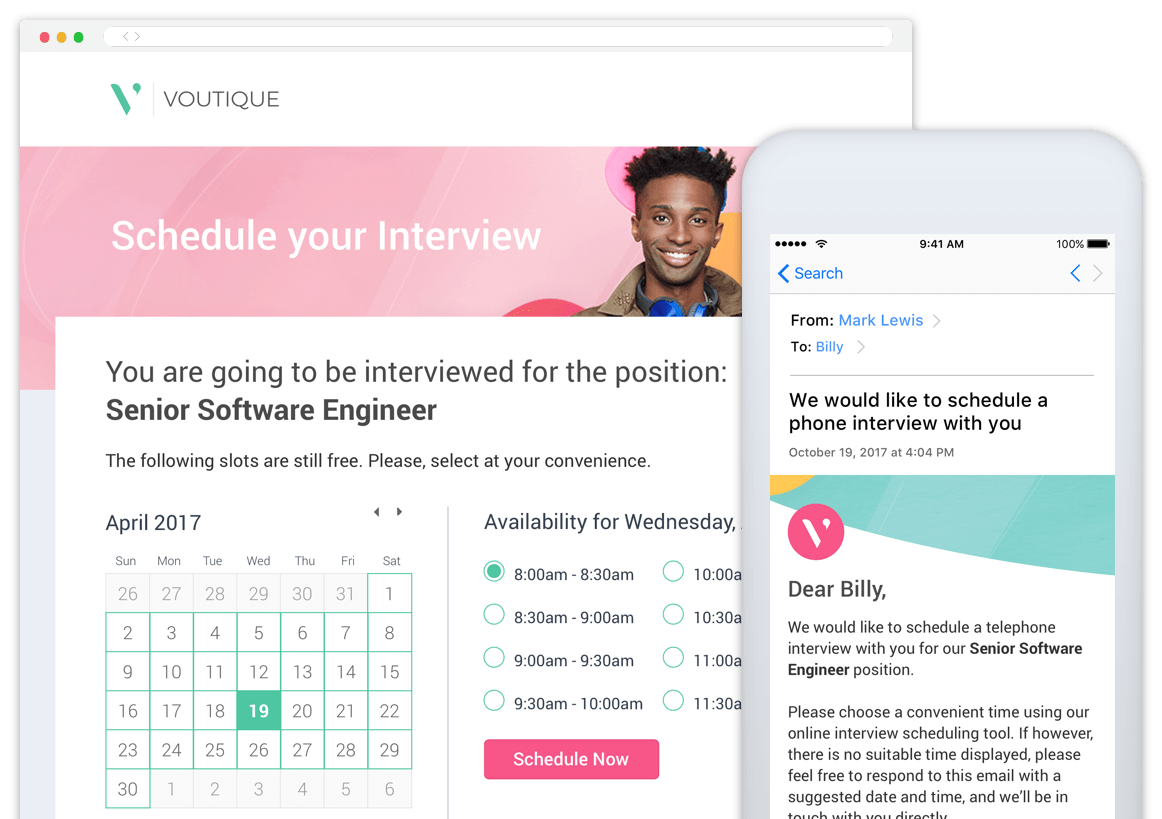 Automatic Interview Scheduling
Save time using Avature's auto-scheduler tool to take the hassle out of scheduling interviews with multiple stakeholders. The auto-scheduler works like a bot that matches availability of multiple participants and automates the process of scheduling and sending invites. It can coordinate both physical and video one-to-one, as well as group or panel interviews.
Avature Video Interviews
Expand your recruiting process with on-demand video interviews that are fully integrated into your Avature platform. With Avature Video Interviews, videos become part of your database, making it a breeze to compare and identify top candidates. On top of that, it creates a better candidate experience by eliminating the necessity of redirecting applicants to a different website or portal.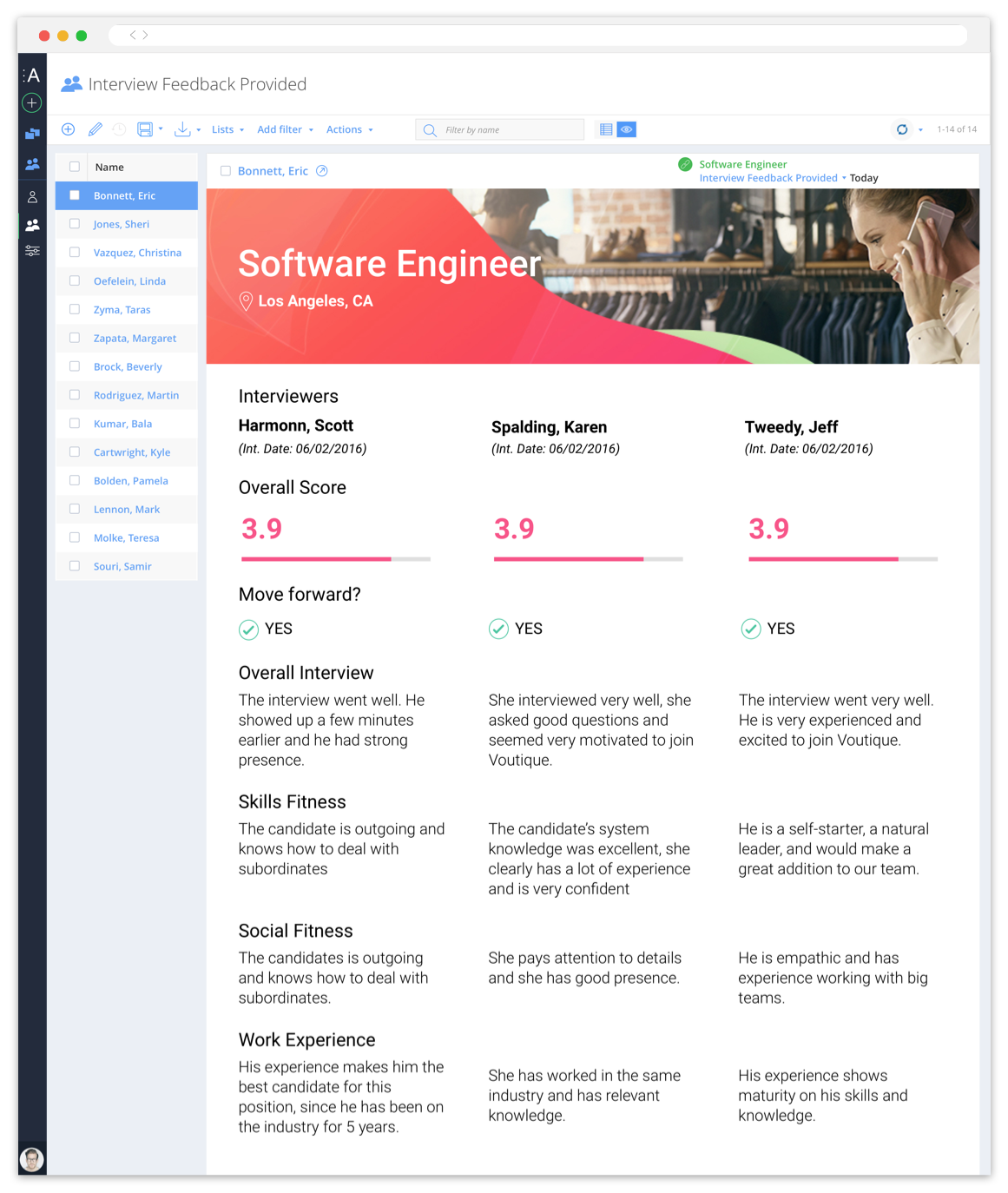 Smart Screening, Automated Assessment and Optimized Offer Management
Reduce your time to hire and simultaneously boost your stakeholder experience with Avature. Automatically score candidates using weighted questions or third party assessments that are seamlessly integrated into your application process. Simplify screening for your TA team by leveraging Avature's powerful AI algorithms to rank candidates.
Optimize offers with automatically generated templates based on region, role or rank combined with branding communications and e-signature support to provide a speedy yet secure transition to onboarding.
Compliance Management
Define a global compliance program with complete audit trails.
Global data privacy - OFCCP - EEO and affirmative action reporting.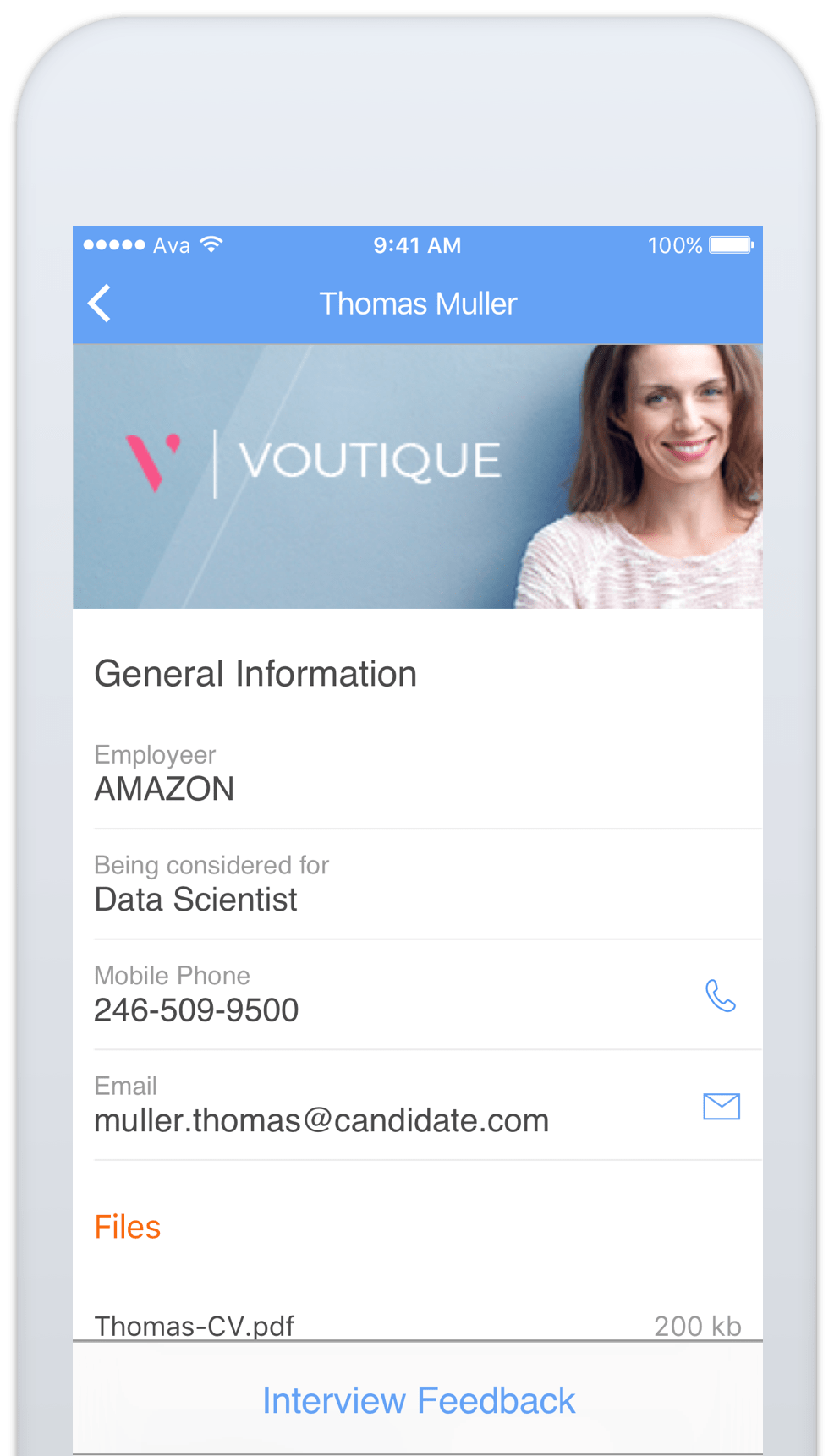 Recruiter Mobile App 
With Avature you can provide an end-to-end mobile optimized user experience and speed up the recruitment process by allowing key stakeholders to perform essential recruiting tasks while on the go. In addition, recruiters can use the Avature Recruiter Mobile App to complete actions while offline, and sync with the system the next time they connect to the Internet.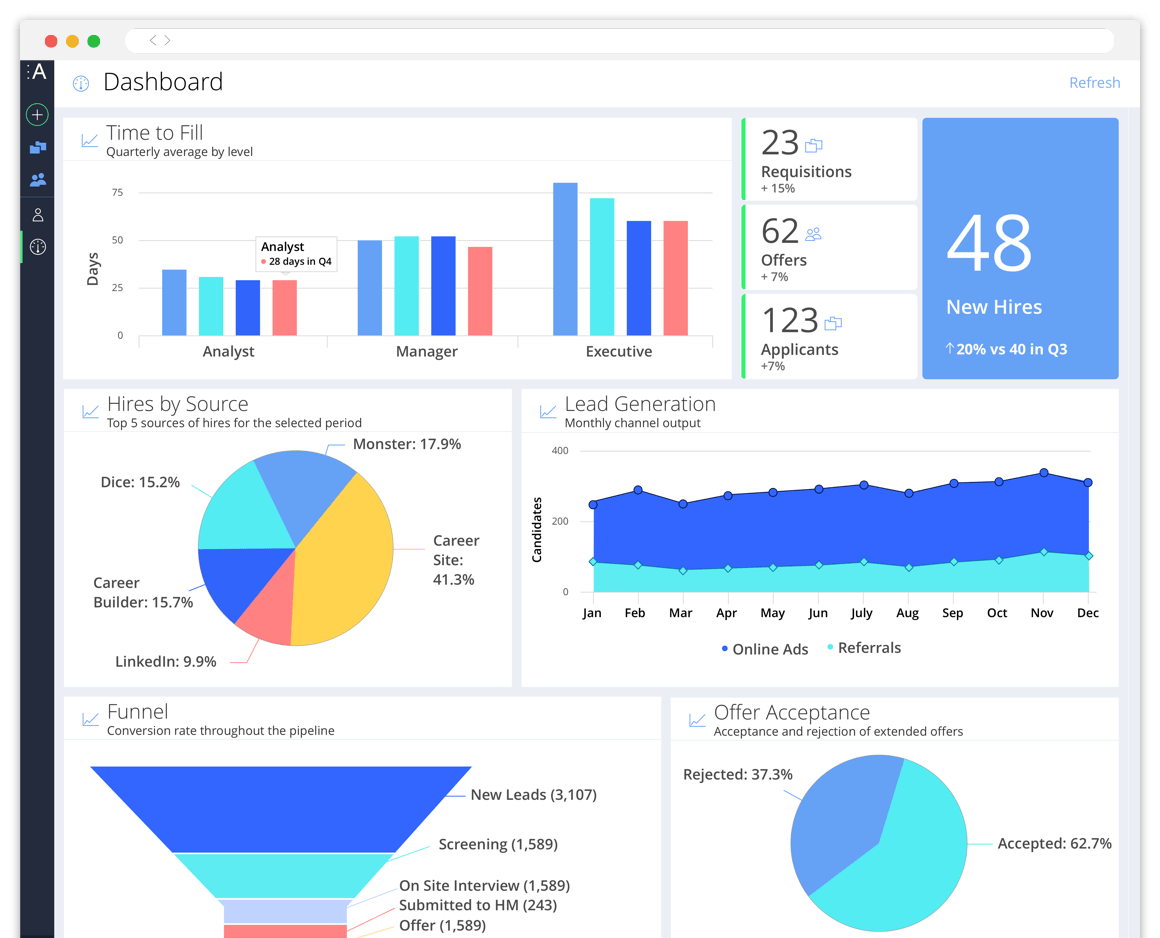 Analytics
Recruiter productivity, vendor statistics, D&I metrics and hiring manager activity reports all come together in a single and powerful analytics module. You can also create reports that go far beyond the basics, Avature supports sophisticated reports and embedded dashboards for controlled access to real-time data based on role.
Give your TA team the power to make strategic decisions and the tools they need to continuously improve:
Career site metrics

Pipeline metrics

Time to fill

Cost per hire

Recruiter productivity

Diversity metrics
Partner Network
Use vendors with certified off-the-shelf integrations or bring your own vendors. With Avature's robust REST and SOAP API suite, multiple vendors can be integrated quickly and easily. Connect with your preferred vendors and easily change vendors when and if you need to.
Background check
Reference check
Drugs
Tax credit screening
Behavioral and skills assessment
Video interviews
Migration Services & Tools
No migration is trivial, but Avature makes migration manageable. Our extensible data model makes custom fields immediately available in our APIs, and our robust de-duplication import features are essential for multistage migrations. Our consultants have a deep knowledge of all the leading legacy ATS products and experience in migrating candidate records (including resumes), job records, and other process-specific data using standard file-transfer methods or our state-of-the-art web bots.
Contact Us
Boost your Recruiting Power with Avature