This is a selection of some of the features that Avature released during the fourth quarter of 2020 with the greatest innovative impact.
Live Interviews
#AvatureVideo
Save time and effort with Avature's built-in video conferencing service. Avature Live Interviews offers a simple, branded and mobile-optimized portal that allows candidates and hiring managers to mirror the face-to-face experience. It supports one-to-one, group and panel interviews, as well as a chat between attendees.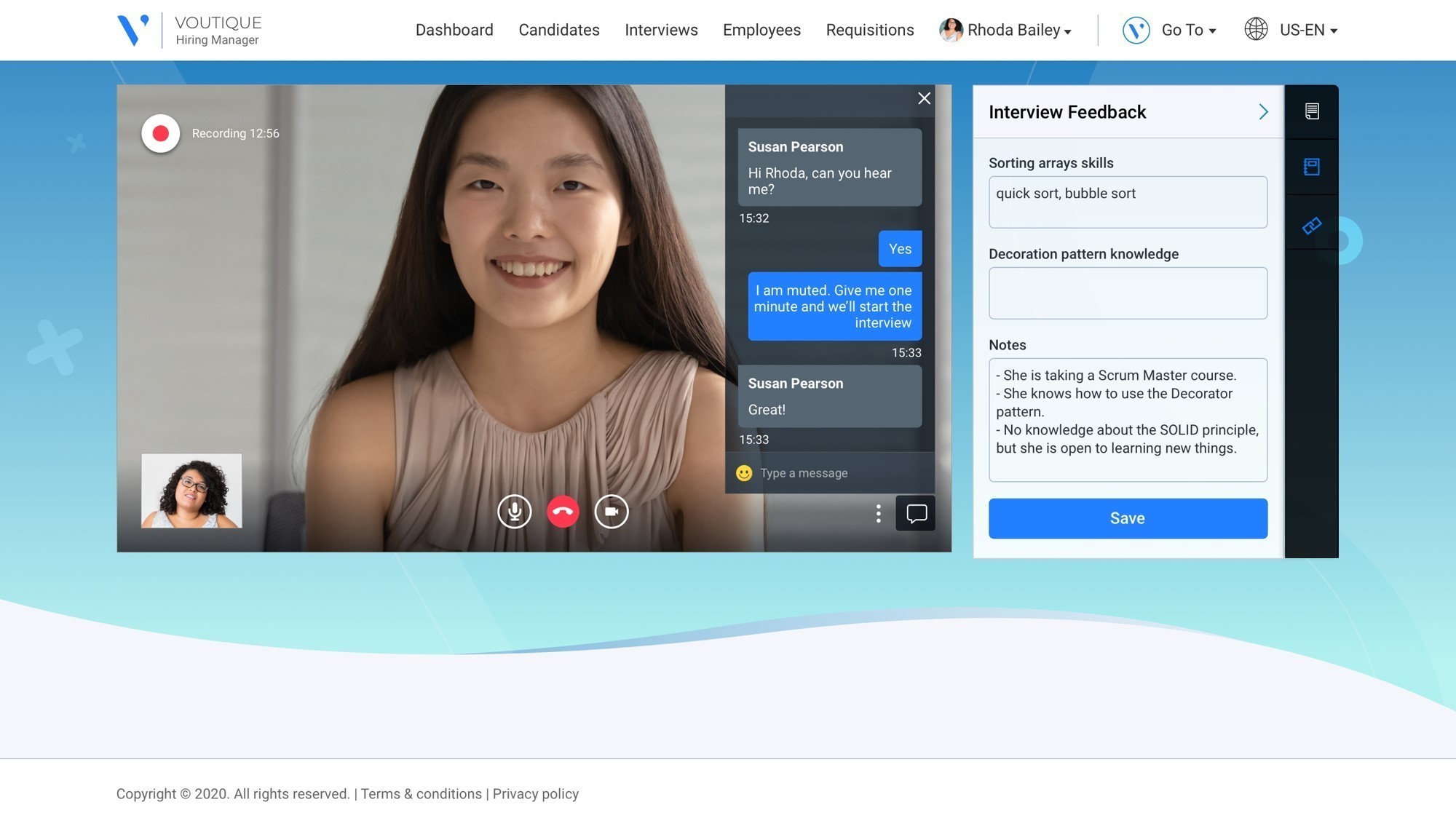 Recorded On-Demand Interview
#AvatureVideo
Avature's Recorded On-Demand Interviews allow recruiters and hiring managers to replace phone and on-site screenings with recorded interviews, avoiding the burden of scheduling. By accessing a fully branded, mobile-optimized portal, candidates can answer interview questions at their own convenience. Thanks to Avature's configurable questions library, hiring managers can select from a list of pre-recorded questions, saving them valuable time.
Semantic Suggestions in Advanced Search
#AI #SmartAutomation
Uncover hidden gems within your candidate database with Semantic Search. Going beyond literal word-for-word matching by using synonyms or related terms and industry abbreviations to expand the search criteria, Avature's Semantic Search module aims to improve user productivity and support higher levels of automation. Primarily designed to improve candidate-to-job matching by using their resume content to expand candidate search criteria based on semantic correlations, this module will help recruiting teams reduce the time they take to find those great candidates that often remain undiscovered. The module also includes a completely revamped search UI that supports both semantic and standard Boolean search operators.
Zip Code Radius Search in Portals
#CareerSites #LandingPages
Give candidates the ability to search for jobs using zip codes, listing opportunities tailored to their preferred location.
Job Matching Based on Work Experience
#CareerSites #LandingPages #AI #SmartAutomation
This feature automatically recommends opportunities based on candidate resumes, enhancing their experience by helping them find the most relevant roles while visiting your career sites.
Integrations Monitor
#Integrations #Partnerships
The Integrations Monitor is a centralized place to have all your enabled integrations information, including health status like last execution and last failure, displayed in easy-to-read dashlets. You can also access the configuration of each integration and generate a log report directly from this section.