Let's take a closer look at some of the most innovative features and updates to hit the Avature platform during the first quarter of 2022.
New Design and Features for the Avature Import Extension
#Search #Sourcing
The Avature Import Extension for browsers is now available with a new and more intuitive design, including icons in its top bar to access all available sections within the extension. Aside from the existing settings section, the new design features a history section to view past imports as well as a download section for users to select the information they want to import and add the page they're visiting to the list of allowed URLs. Additionally, users can now configure the extension to choose whether to create a new record or to update an existing one if import information matches a current record in Avature. And finally, to avoid the Avature Import Extension overlapping important candidate information, users can now move it to any of the four quadrants of the screen.
Semantic Suggestions in WebSources
#AI #Sourcing #TalentAcquisition
WebSources is a tool in the Avature platform that lets you simultaneously search for candidates that match specific criteria within your existing person records as well as in multiple external sources, such as paid job boards, free websites, directories, and networks. As of Q1, our AI-powered search allows to expand the search criteria in WebSources with two new fields, Position title and Skill. As users type values in these fields, semantic suggestions appear, empowering users to quickly incorporate or remove these suggestions to create highly effective search strings. This enhancement improves the search experience by offering related terms from Avature's ontology of thousands of job titles and skills, and helps sourcers find candidates they might otherwise miss.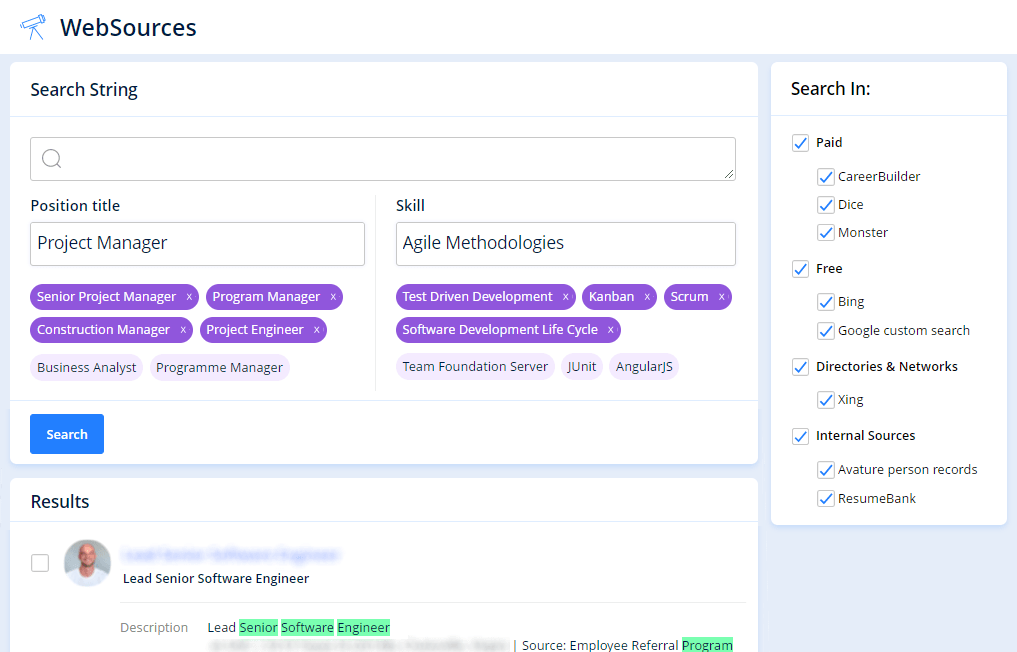 Candidates Can Attend Video Meetings Without Logging In
#AvatureVideo
This feature comes to improve Avature's live video experience by allowing candidates and interviewers to easily access their interview room without having to log in. It consists of a new email template variable (video call url) that will allow companies to decide whether they want their users to access, by entering their username and password or just by clicking on the invitation link.
E-Mailing Unsubscribe Reasons Tracking
#Communication #DataPrivacy #Analytics #Reports
Learning why people unsubscribe from their email communications gives organizations a better understanding of their target audience's behavior so they can make adjustments to their strategy in the future. With Avature's e-mailing unsubscribe reasons tracking feature, users can ask recipients who unsubscribe why they did so and leverage that information to report on email communications.
Record Dashboards Available in Person and Company Records
#Reports #UI
Dashboards visually display large volumes of data that have been continuously monitored, allowing users to make quick decisions and assess statuses. Avature users can now enable record dashboards for person and company records. With this enhancement, they can quickly review key metrics and information specific to person and company records. Users can select the dashboard that best suits their needs from within the records.
Enable Two-Factor Authentication
#Security
Since two-factor authentication (2FA) enables a second step in the login approval process, the risks associated with compromised passwords are neutralized. Admins can now enable 2FA in the Avature main application and decide whether it should be optional or required for their users. The two-factor authentication enhances the security of the platform by requiring users to confirm their identity through a time-based, one-time password (TOTP) generated by a third-party app.