Improved Segmentation for DNA Ads
#TalentManagement #Communication&Engagement
Ads are an excellent way to communicate company events, open positions, special benefits to our employees and much more. Now, with a few simple actions, you can define a segmented audience by choosing one or more groups to display your ads to. Also, define multiple locations to place an ad at the same time, set a display limit and display them by a custom priority.
Email Campaigns Based On Recipients Behavior
#Communication&Engagement #AI  #SmartAutomation
Avature brings you a feature for recruitment marketing: conditional step updates for send-email workflows. You can now define different conditions for different actions performed by the recipients of an email marketing campaign. Create smart, engaging campaigns based on your recipients' behavior. With this feature, we are able to differentiate if a specific content within an email is clicked on, if the email is opened, marked as spam or if it bounced, and then define the following workflow actions based on each behavior. A great feature to automate the process of email sending, reducing time and effort for recruiters and optimizing your campaigns.
Multiple Location Filter in Portals
#CareerSites #LandingPages
We understand how important it is to improve your candidates' experience when they are searching for job opportunities. It is now possible to establish multiple conditions for one filter in a job search in portals. When candidates are searching for jobs in your career portal, they will be able to filter a job list by any of the locations where the position is available. This feature improves the search experience of your portal users, making it very simple to search for jobs in different locations.
Calendar Customization Improvements
#Calendar&Scheduling
We continue to improve the calendar dashlet in dashboards, now allowing greater customization of the information to be displayed. With a few simple configurations, personalize your calendar dashlet to a friendly view of upcoming tasks and events.
Items: Choose if you want to display tasks, events or both.
Layout: Decide how you want to display the items: grouping them by date, in a detailed list or in an overview list.
Period: Define what items to display according to their date: today, this week, this month or from today onwards.
DNA Targeted Posts
#TalentManagement #Communication&Engagement
DNA users now have the ability to target posts to specific audiences based on different criteria. A new "target" option displays a dropdown menu that will let you pick the criteria for the segmentation. Make your post's audience as specific as you like, by choosing to segment by one or multiple fields, such as interests, languages, skills I'd like to learn and so many more!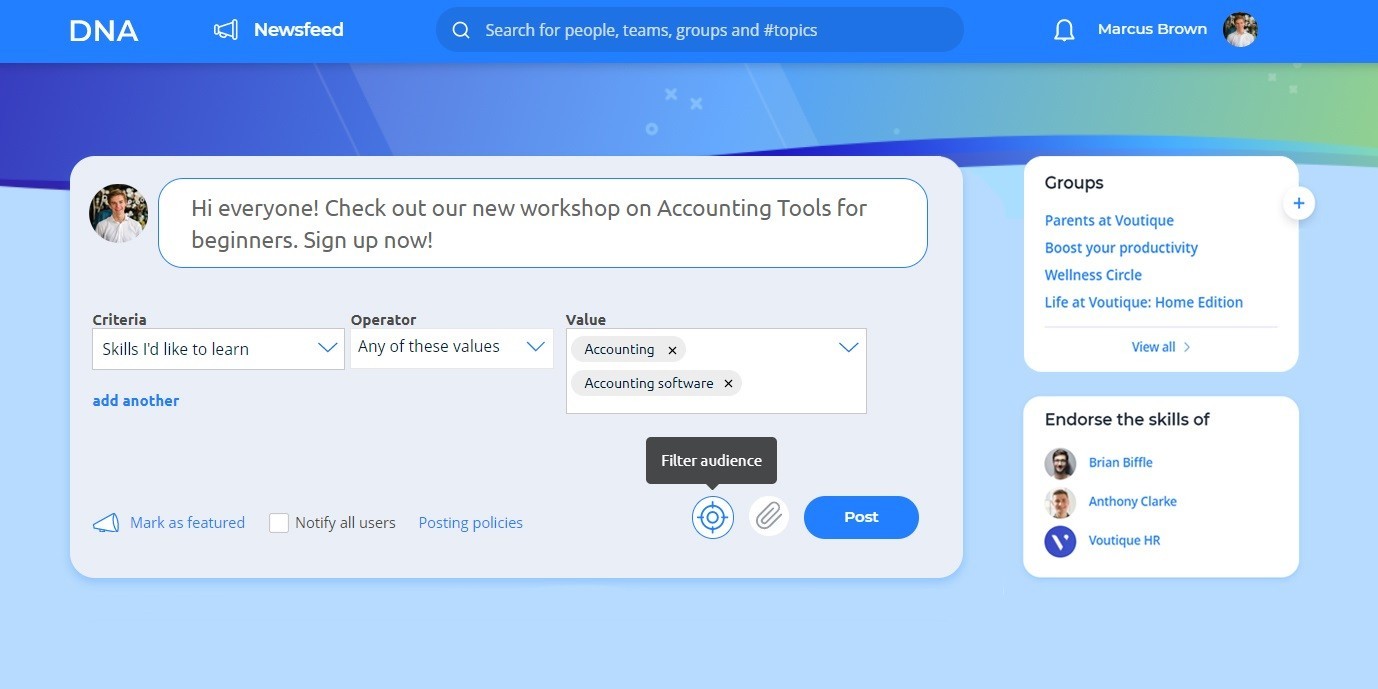 Filter Time Slots Based on Assignees
#Calendar&Scheduling
We have enhanced our time slots functionality by allowing you to filter a calendar by the assignee of an event. Now you can define the assignees from a field of a record or form and filter the time slots by this value. This feature improves collaboration in your teams when scheduling interviews for different stakeholders.