The first quarter of 2020 was busy here at Avature. Here are the most innovative new features that hit the platform as we kicked off the year.
Key Indicators at the Top of Records
#UI #Architecture
Assess the health of any requisition, pipeline, event or campaign at a glance by visualizing the number of people in every key step of the process directly within the record. Users can customize the indicators to show the steps or step categories that are most relevant to them.
Mobile App: Swipe to Check-in Candidates
#MobileApp
We improved the process of checking people in at events with the Avature Mobile App, reducing the amount of clicks to perform the task. You can also now move any person record to another workflow step by just sliding the candidate to the right, speeding up the process and enhancing the management of a high-volume of attendees.
Surveys on DNA
#TalentManagement
When it comes to assessing employee engagement in real time, surveys are a great tool to have at your disposal. You can now send out highly visible surveys to employees via Avature DNA. Once complete, it's easy to compare and analyze responses within the Avature platform.
DNA Home
#TalentManagement
Provide employees with an intuitive one-stop shop for all their HR-related resources. From the new DNA homepage they can review their tasks and interact with personalized content that is served to them based on a wide range of criteria, including role, location and career aspirations.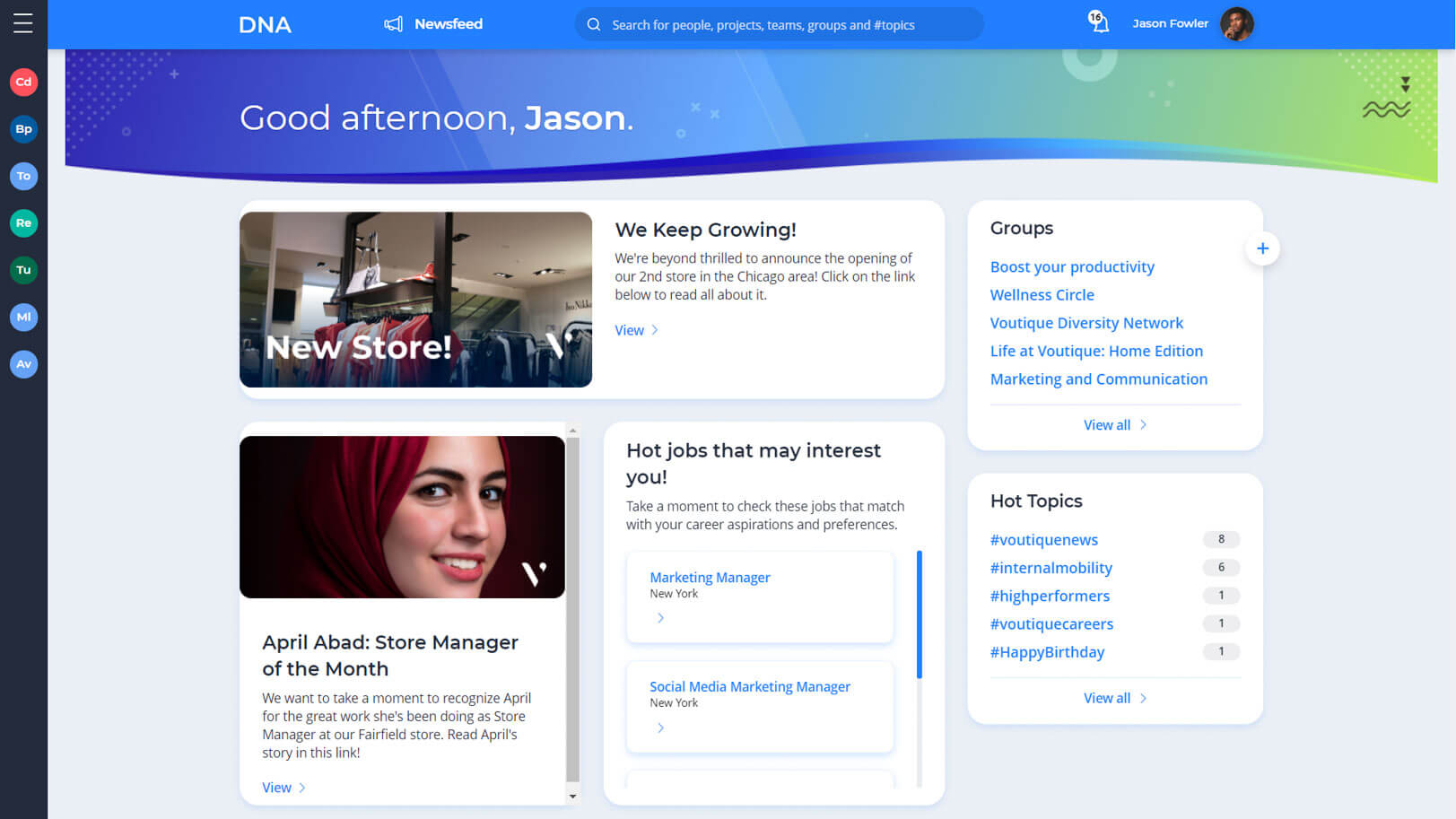 Calendar Redesign
#Calendar #Scheduling
Optimize how users organize their tasks and events with our redesigned calendar. The new "week" and "day" views improve user experience, helping them to manage their schedules in a more efficient manner. For those handling high-volume scheduling tasks, the fresh color palette improves visibility of the number of simultaneous meetings, as well as making it easier to identify different types of events.
External Links Section
#UI #Architecture
Avature has added an external links section to the menu as well as an external links settings page. This feature allows you to include links to content outside Avature so that your users have in-platform links readily available to information related to your organization, such as corporate guidelines, company websites or career sites. On the edit page you will be able to type a label for the link, choose the icon's color and initials, type the URL and enable or disable it based on your organization's needs.