Avature Concierge
Avature Concierge is here to ensure your Avature journey gets off to the best possible start by guiding you from handshake to go-live.
A Service Centered Around You
How can the Avature Platform help you achieve your talent objectives?
The answer to this question lies at the heart of the Concierge team's purpose and philosophy. No two businesses are the same which is why we adapt our approach to you and your strategy, setting a personalized implementation plan and partnering with your User Admins to ensure you hit the ground running from day one.
"Avature's Concierge service helped us bridge the gap between system implementation and change management. We had a dedicated Concierge representative who took us through the journey by providing tools and methods to communicate our upcoming new ATS, define the risks and ongoing support structure, as well as helping us determine which metrics would be useful to measure success. Without the Concierge service, our implementation would not have gone as smoothly as it did!"

Sue Sands

Human Resources Director, Consumer Direct
A Shared Mission
Our goal is to set you up with your Avature platform as quickly as possible. We are here to ensure that you maximize your ROI, so will work tirelessly to ensure you are getting the most from our partnership while being by your side to resolve any teething issues that may crop up along the way.
Driving Success Across Your Avature Journey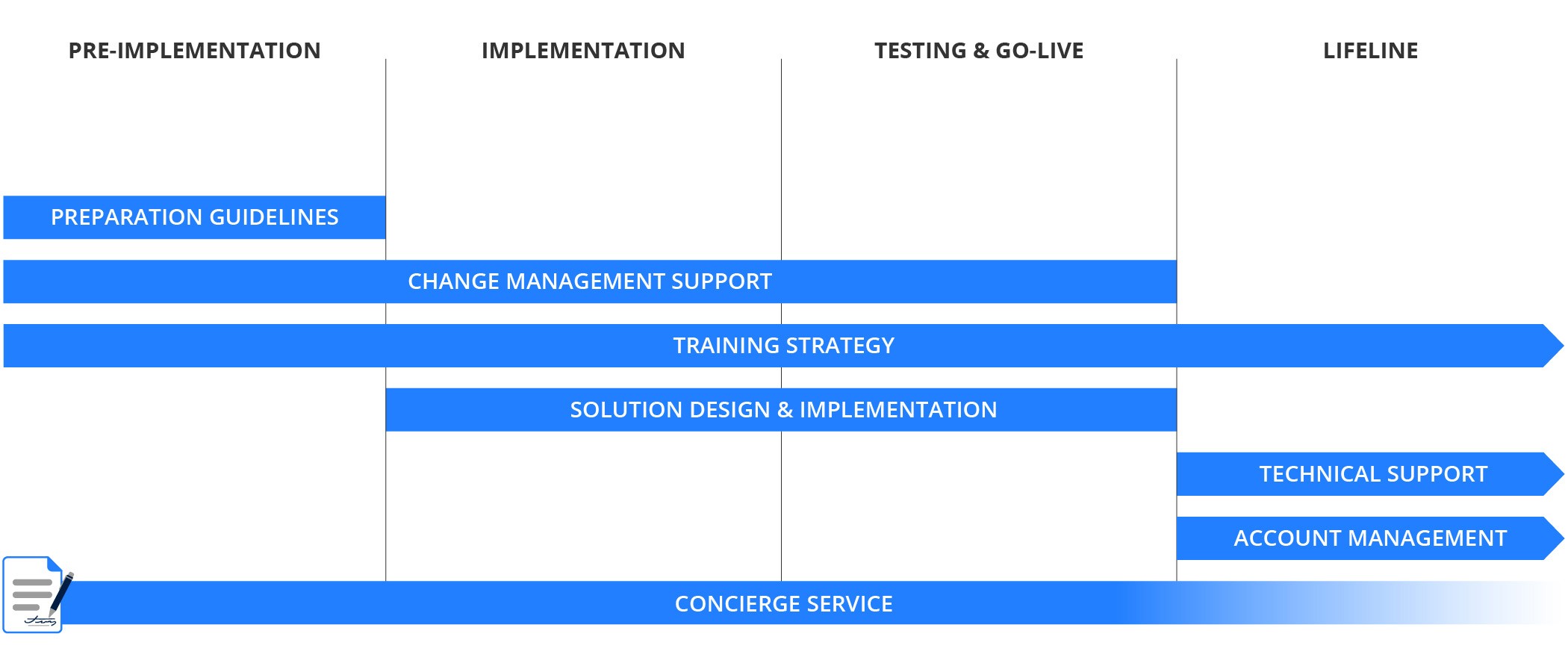 Avature Concierge is here to help you focus all your energy on going live. They will arm you with the correct tools and knowledge you need to achieve a smooth and successful post-go-live experience.
Benefit from a single point of contact to answer all your queries, both big and small. Your assigned POC will help you navigate your customer journey, serving as the conduit between all the relevant teams that will come on board at different key moments to ensure that the initial phase is a success.
Get trained on all the Avature terminology and learn all the tips, tricks and best practices to heighten your interaction with Avature and your platform users.
Take advantage of our customer-centric philosophy. From new functionality to service delivery, Avature responds to customer needs. Incoming requests inspire over 65 percent of our latest features and suggestions for service enhancements shape the way we support you.